File Details

File Size
0.1 MB
License
Open Source
Operating System
Windows 7/2000/Server 2003/Server 2008/Vista/XP
Date Added
May 30, 2014
Total Downloads
40,239
Publisher
Jan T. Sott
Homepage
xpy
Publisher's Description
xpy is a small tool which disables the default threats of a Windows 2000, XP, and Server 2003 installations. Besides the classic antispy features, it closes recent security holes like the remote procure call (rpc) service and the distributed component object model (dcom).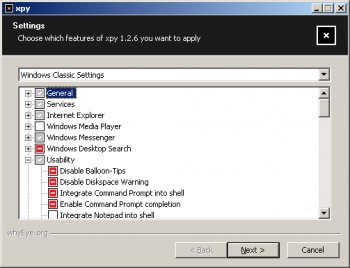 View Full-size
Latest Reviews
mikebray reviewed v1.3.7 on Mar 12, 2014
good!
olivergiving reviewed v1.3.7 on Sep 25, 2013
5 stars
paulperry reviewed v1.3.7 on Aug 24, 2013
xpy is solid
Bala7 reviewed v1.3.6 on Jun 22, 2013
Despite all the bad reviews this tiny app is truly excellent. However, it is up to you, the user, too understand the inner workings of your OS. If you're not sure what a field means then do not check that box.
CyberDoc999 reviewed v1.3.5 on May 15, 2013
this is just a bad idea
Poseidyon reviewed v1.1.2.1 on Jul 12, 2011
Once forced me to reinstall . Get XP-Antispy !
Blue Joker reviewed v1.1.2 on May 11, 2011
It can cause some problem .
some guy reviewed v0.6.1 on May 3, 2011
if you run Vista you deserve your computer to blow up!
CyberDoc999 reviewed v0.6 on Apr 28, 2011
there is no real un-do feature
the nice thing about this is the things that you do not check get changed anyway
so like I said before
avoid this crap
by the way I have personally fixed over 5 thousand computers
and have over 18 years experence
Bala7 reviewed v0.5.6.1 on Apr 11, 2011
@Slipped it in
@CyberDoc999,

That's because this app is meant for advanced users or at least those who know something about their OS.