File Details

File Size
53.9 MB
License
Freeware
Operating System
Windows 7/8/10/11
Date Added
October 7, 2022
Total Downloads
453,992
Publisher
Shark007
Homepage
ADVANCED Codecs
Publisher's Description
Audio and video codec package for Windows. The installer will automatically remove most other popular codec releases from your computer before installing this concise yet comprehensive package. You won't need to make any adjustments or tweaks to enjoy your media content immediately. Windows Media Player and Media Center will instantly recognize all your files as playable.
It does not contain a media player and it does not associate file-types. With this package installed you will be able to use any media player, limited only by the players' capabilities, to play all movies and video clips. Streaming video is supported in several formats in all popular web browsers. Users of the Win7codecs have the ability to choose what is installed and where to install it using the public redistributable. After installation you can select to remove specific portions without removing the entire package. You can also re-add the removed items at any time.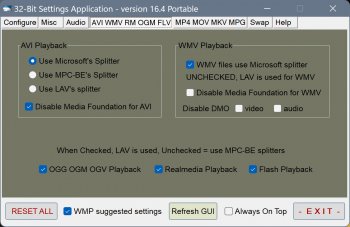 View Full-size
Latest Reviews
Zootopia3001 reviewed v7.8.6 on Jul 17, 2017
My choice of codecs, along with accompanying media player (MPC-BE).

Be nice if there was an update download option to include the MPC-BE update along with the codec updates. The update also resets settings, which I hate, I set LAV audio options to certain settings. Because of this I update only once a month, every patch Tuesday. Once they get to the last version of MPC version of 1.5.1.xxxx I'll probably delay updating for quite awhile, because it probably wouldn't even be necessary for some time.
Antichrist reviewed v6.9.9 on Jan 16, 2017
My preferred codec pack (for now). I used to use K-Lite long ago, then I switched to Kawaii Codec Pack because it installed MadVR easily. But they stopped updating. Shark007 updates the codecs all the time. I found the Advanced Codec pack was unnecessary so I recommend getting the Standard Codecs unless there happens to be some files that actually won't play for you. And then go to his Tools page and you have the option of getting the installer for MPC that includes MadVR, or if you are installing it on a weak computer, get the MPC installer without MadVR, otherwise it will play choppy! And it installs MPC-BE which I prefer because the interface allows subtitle and audio changing easier etc.
Shark007 reviewed vv6.1.4 on May 2, 2016
Since version 6.1, this distribution is 100% clean.
No Adware.
No Virus.
No Spyware.
CyberDoc999 reviewed v5.10 on Mar 6, 2015
Spyware and Adware
CyberDoc999 reviewed v4.6.5 on Jun 14, 2014
this is good BUT full of spyware
not sure why this is here
Betanoob reviewed v3.8.5 on Nov 5, 2012
the spyware is great! thx!!!!
Betanoob reviewed v3.8.5 on Nov 5, 2012
Thanks for the free toolbars and spyware!
bradpitt812 reviewed v3.6.8 on Jun 25, 2012
Need recommendations for data recovery experts who have worked on fire damaged computers
Šbb Kbb reviewed v3.6.8 on Jun 22, 2012
Just install and it works.