File Details

File Size
2.0 MB
License
Freeware
Operating System
Windows 7/8/10/Vista/XP
Date Added
January 27, 2017
Total Downloads
39,454
Publisher
Martin Aignesberger
Homepage
AM-DeadLink
Publisher's Description
AM-DeadLink detects dead links and duplicates in browser bookmarks and text files. If a bookmark has become unavailable you can verify and delete it permanently. Additionally you can download FavIcons for all your Favorites and Bookmarks.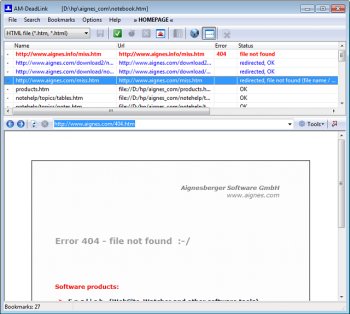 View Full-size
Latest Reviews
chrispaul reviewed v4.6 on Feb 17, 2014
4 stars nice!
jacobjackson reviewed v4.6 on Aug 24, 2013
gotta love am-deadlink
DCortez reviewed v4.5 on Jul 1, 2012
I would like to give this a 5 but can't see how to delete all duplicates found with a single click. Other reviewers say this can be done, but it escapes me. The author's website has forums, FAQ, instructions, but I can't find it. I am using 4.4 the latest version. If this is easy to do, I would welcome your instructions.
Music4Ever reviewed v4.5 on Jun 22, 2012
I've used this for some time now & is excellent if you have lots of bookmarks.
smaragdus reviewed v4.2 on Sep 13, 2010
Good application, version 4.3 available.
Cooledit reviewed v4.2 on Sep 11, 2010
very useful when I need to check all of my 500 favourites
TDreamer reviewed v4.0 Beta 1 on Jan 14, 2010
Hey Antichrist. As posted in his blog and I quote as to being asked why on FF3 support, he says " no, still no plans to hack into foreign databases. Only browsers that save their bookmarks in a readable plain text format are supported."
Antichrist reviewed v4.0 Beta 1 on Dec 1, 2009
Still no Firefox 3 support! I did find a Firefox addon finally, CheckPlaces ( http://www.andyhalford.com/checkplaces/ ), that has most of the functionality though, such as restoring favicons, checking for duplicates and dead links. So I've switched to that and I'm happy with it.
Anxiously awaiting Firefox 3.0 support...
Rafel reviewed v3.3 on Jul 15, 2008
A great program, little and portable.
Five stars.