File Details

File Size
0.4 MB
License
Freeware
Operating System
Windows 2000/9x/Server 2003/XP
Date Added
May 11, 2006
Total Downloads
30,557
Publisher
AOL LLC
Homepage
AOL Explorer
Publisher's Description
AOL Explorer (formerly AOL Browser) has enhanced security and more time-saving features than any other browser. Built-in pop-up controls help protect you against annoying pop-ups and Spyware Quick Scan makes your surfing safer. A host of new tools, like Tabbed Browsing and Desktop Search, help make you more efficient.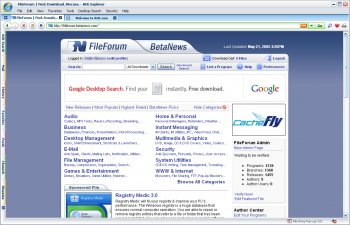 View Full-size
Latest Reviews
yanike reviewed v1.5 Build 1.5001.7.1 on Jun 1, 2006
I don't know what it is, but I recently just tried AOL again today(June 17th 2006). It seems to be running just fine now. Plus! AIM Pro is awesome. AOL seems to be getting it now. Good Job AOL :)
cantdrive55 reviewed v1.5 Build 1.5001.7.1 on May 20, 2006
when i first downloaded AOL explorer i really liked it, the themes are cool, the favorites bar, and i like the thumbnail previews pretty well. But next thing I know my computer was freezing up and doing weird stuff. I don't know the lingo that well, but it was starting to leave little bits and pieces of other windows stuck on my screen after closing out a window (or program). It started going real, real slow and my applications were "not responding" and I couldn't even fix it with alt/control/delete. I cleaned my cache, did the defrag, and deleted temp files; everything I could think of to speed up my computer (which is generally pretty fast); i've got 714mb ram and 1.86 gb processor (i know, it could be faster, but it's not too bad) and I have some good anti-spyware and anti-virus programs keeping my 'puter clean of bugs (hopefully). But nevertheless, I HAD to do a SYSTEM RESTORE finally to make my computer act good again. In the future, I'll know to do a sys restore "before" downloading something like this again. But who'd a thought a browser could cause these kind of problems? I downloaded the AOL explore once again, brave huh, and now it won't let me sign in, or use my themes, tools, faves, etc. I'm lost as what to do. I guess I'll stick with my regular AOL Security 9.0 that i was very happy with anyway. I do believe AOL has changed for the better, so I'm giving them another try; I just can't figure out the A-explorer???
twocents reviewed v1.5 Build 1.5000.6 Beta on May 7, 2006
First off, AOL deserves every bit of bashing they get on these reviews. They've earned it. They've earned it as much as any company ever has.

Like alot of companies out there, they are also learning NOT to screw around with a user's computer. Other companies like Sony and the DRM/Rootkit crap they pulled will also learn that a computer system belongs to the end-user. Getting sued by individuals as well as nations will eventually make these arrogant and greedy companies a little more respectful of the clients they are supposedly serving.

I'm as big an AOL basher as there is - not because of the company but as a result of the number of systems I have needed to fix over the last 15 years - because of their total disregard for someone else's property.

It was with a great deal of reluctance that I installed AOL Triton (Messenger) and AOL Explorer (their Browser).

The installation was clear and open. Much to my surprise, it was fair and unlike earlier AOL installs that tried to hide 3rd party application installs, everything was out in the open. They asked questions like:

A. Do you want the AOL Toolbar on IE
B. Do you want to make AOL Explorer the default browser
etc...

AOL would NOT - I repeat... would NOT have done that a couple of years ago.

Evaluating both the Browser installation PLUS AOL's reputation during this process - I'd have to say that they both passed with flying colors!

I hope AOL continues to respect user rights and that many other companies follow suite.

The Browser itself is exceptional and this evaluation is coming from someone with a great deal of distrust for AOL.

One of AOL's past strength has been in the area of usability. They have always shined in this very important area.

In fact and despite their past transgressions, usability and now integration to their other services is about as well done as I've seen on any browser. Kudos to AOL for pushing browser standards forward and giving users the feel of a desktop application (FAT Client) in a Browser interface.

For users out their still leery of AOL's past, maybe it's time to give them another shot - I did...

If using IE 6's rendering engine still concerns you from a security prespective - do look into Netscape, Opera and Firefox.

Netscape can toggle between rendering pages using Firefox's engine (Gecko) and also does a great job of "skinning" the interface toward an enhance user experience. My hat goes off to them also.

Opera uses it's own rendering engine and has been, imho, the browser interface leader and it's main innovator for many years. To Opera... users and browser developers have noticed what you've done over the last nearly 10 years - you can see the influence on these new browsers skins.

Firefox, while lacking in a default esthetically pleasing color scheme (yeah - it's butt ugly), does a good job on security issues. Sad to say, this should be one of the most impotant criteria for selecting a browser and should be seriously considered (along with Opera) in ANY environment where security is a concern.

I hope AOL continues to further improve the remarkable browser thay have put together and eventually add the same type of toggle switch Netscape has incorporated into their technology (Firefox/IE). I would certainly use AOL much more often if it used the Gecko Engine (or even licensed the Opera Engine - as does Macromedia's Dreamweaver).
riceboy reviewed v1.5 Build 1.5000.6 Beta on Apr 25, 2006
Bloated as heck....AOL never gets it right. Adds all this extra stuff in the background..sheesh
markus10018 reviewed v1.5 Build 1.5000.6 Beta on Apr 25, 2006
Could have been interesting without the massive AOL branding. With Firefox and Opera out there and IE 7 lurking around the corner I see no reason why I should use it.
Kompressor reviewed v1.5 Build 1.5000.6 Beta on Apr 24, 2006
I had a perfect running system until I installed this software, now I have things crashing left and right.
minklein reviewed v1.5 Build 1.5000.6 Beta on Apr 24, 2006
Yep, I like to get Email from the browser too. No button Sucks. So far they have not put one in IE7 either.
some guy reviewed v1.5 Build 1.5000.6 Beta on Apr 24, 2006
I give it 1 just because AOL is about as good as MSN LOL
yanike reviewed v1.5 Build 1.5000.5.1 on Apr 18, 2006
(Flash Problem Found) Do to Microsoft losing legal battle most Flash, Real, Quicktime and other documents will have a block screen. Now it's up to the developers to do the work around code.

Still I rate this 3 because it doesn't have a Mail button for Email Client Software you use as a default program and you can only search with AOL in the search bar.

AOL Users: 5 rating
Open Source Users: 3 rating

Memory hug, but fast browser!
All in all, This product is a great browser, but mostly designed for AOL users.
joeshmoe7 reviewed v1.5 Build 1.5000.5.1 on Mar 28, 2006
Nice looking, loads pages well, easy to use, but...

-4 points for being from AOL... out of principle.

You don't know how many times i hear from customers, what a nightmare they went through to try and cancel their AOL service. Yep, their still pulling that crap on people to this day, at least where i am. They have no shame.