Other Versions
Publisher's Description
Abyss Web Server X1 is a free, personal Web server. Despite its small footprint, it supports secure SSL connections (HTTPS), CGI scripts, FastCGI, ISAPI extensions, ASP.NET, server-side includes (SSI), URL rewriting, download resuming, caching negotiation, logging, custom error pages, password protection, IP address control, aliases, custom MIME types, index files, custom directory listings, anti-leeching, and bandwidth throttling. It also features an automatic anti-hacking system and an intuitive multilingual remote Web management interface. With it, hosting your Web site and your PHP, Perl, Python, ASP, ASP.NET, or Ruby on Rails Web applications takes only a few minutes.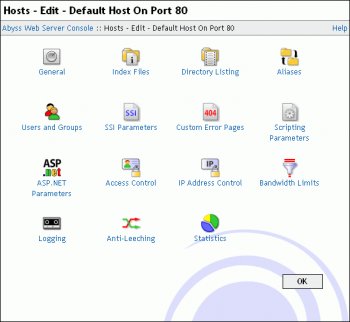 View Full-size
Latest Reviews
stisev reviewed v2.4 on Mar 15, 2007
The best simple web server program hands down

Apache is the best for high-end production/power-users.
tbresson reviewed v2.4.0.2b2 on Dec 7, 2006
The webserver states it supports Classic ASP, though it does, it's not free.

"Classic" ASP support is available only on Windows using a third party commercial product called ActiveHTML from seliSoft.

According to seliSoft they're product is no longer freeware.

I'm sorry I didn't write a full review on the product, I'm sure it's fine. But I was looking for classic ASP support because the new Windows Vista is very expensive and I was hoping for a thirdparty webserver for testing ASP scritps and I'm sure others are thinking about it too..
agildehaus reviewed v2.4.0.2b2 on Dec 7, 2006
Makes setting up a webserver as painless as possible. I doubt I'll use it for production work, but for throwing a webserver together quick I will definately turn to this first.
WebWarp reviewed v2.4.0.2b2 on Dec 7, 2006
It simply just works - Great, much, much better than I ever would have thought!
1uk3 reviewed v2.3.2 on Jun 15, 2006
Excellent! Just what I was looking for.

Was a breeze to set-up with a good walk through guide too! :)
uberfly reviewed v2.3 Beta 2 on Feb 22, 2006
Very nicly written and good for many web solutions. The flexability is awesome. One drawback example - this server doesn't have built-in SSL support, even in their 'Full' version. You can kind of shoestring it together w/ stunnel and such, but still not mature in several ways as apache or IIS is.
Canuckistani reviewed v2.3 Beta 2 on Feb 22, 2006
Does it's job with minimum fuss.
madmike reviewed v2.3 Beta 2 on Feb 22, 2006
One word: Excellent
Aegis69 reviewed v2.3 Beta 2 on Feb 22, 2006
This program does PHP and ASP? Thats impressive actually, (even though I pesonally never use ASP, some of our customers do).

Looks like it might be a competitor for Apache.
stisev reviewed v2.0.6 on Nov 25, 2005
Best web server for windows. Hands down.