File Details

File Size
6.6 MB
License
Shareware, $29.95
Operating System
Windows (All)
Date Added
May 22, 2021
Total Downloads
8,840
Publisher
Acelogix Software
Homepage
Ace Utilities
Other Versions
Publisher's Description
Ace Utilities is a collection of system maintenance utilities to keep your system in good shape. Your computer will boot faster, and run applications smoothly. It helps you delete internet cache, cookies, temp files, visited page history, and all other recent document info.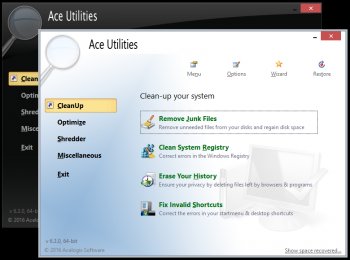 View Full-size
Latest Reviews
Music4Ever reviewed v6.3.0 RC1 on Sep 18, 2016
Another fix all program - Unneeded & has the ability to really, really mess a PC up, & eventually will - CCleaner does all you want & use that with care too.
fredreed reviewed v6.0.0 on Aug 27, 2015
I would stay away from using this crap because all It will do is mess up your system. This is just another piece of garbage that developers are trying to rip people off and take your money.
smaragdus reviewed v5.6.1 on Oct 8, 2014
The developer is selling the x32 and x64 builds as separate products, amazing greed indeed!
CyberDoc999 reviewed v5.6.0 Beta on Sep 26, 2014
30 bucks .... the download link takes you to a spyware web site.. just another reg cleaner..... they install adware
Bala7 reviewed v5.2.5.475 on Feb 13, 2012
@ baki_princ
that was funny, if you prefer the more progress FF or Chrome versioning:
simply add 10 bringing this version to 15.20.50.475000

otherwise, a good utility properly priced although you can find free apps doing much the same tweaks.
baki_princ reviewed v5.2.4.474 on Jul 8, 2011
I remember as a child i installed version 4. Good to kow that they hv come to version 5.2 after a decade
Blaxima reviewed v5.0 Beta on Oct 10, 2008
still works flawlessly even in beta. The new GUI is ok for the main window (the white had a cleaner look) but I'm not into the office 07 look for the sub windows, this is a small complaint for a program that has been and continues to be one of the best apps for safely cleaning your system of useless files and controling certain aspects of your system like start up items
bellgamin reviewed v5.0 Beta on Oct 9, 2008
I have used Ace Utilities for several years. I am VERY satified with its performance. Stable as a rock. Easy to use. Superb support (seldom needed). A good support forum, populated by the program's developer and a large community of friendly, helpful fellow-users.

In all these years, AU has never fouled up my computer by its cleaning operations. I recommend it highly. (It's a 1-time payment, by the way.)
Blaxima reviewed v4.1 on Dec 3, 2007
Why are change logs so hard to come by?!?!

I found this in their forums for the betas

+Updated ignore lists
!Minor bugfixes
!Fixed some minor glitches in wipe code (Vista related)
+Opera history of all user profiles are now cleared
+Added Cookie Manager for Opera !
+Minor update to regcleaner ; scans some more areas
+A few new plug-ins
+Added Ignore-List for shortcut cleaner

This app has been and stil is great
Blaxima reviewed v3.3.1 on May 16, 2007
This I have found to be one of the best apps for what it does. I have used it for years without any problems.