Other Versions
Publisher's Description
Acronis True Image protects your files, pictures, videos, operating system, applications, settings, and preferences. If your PC or Mac is lost, stolen, or damaged, you can easily and quickly restore your entire computer to its exact previous state to the same or different hardware. You can also restore just the files and folders you need. Save time and frustration with the industrys fastest backup and restore now optimized for Windows 10 and the latest OS X releases.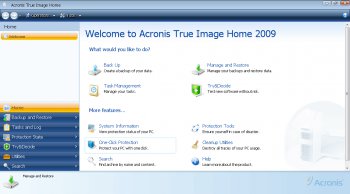 View Full-size
Latest Reviews
Stanley61 reviewed v2021 on Sep 11, 2020
I've switched to Macrium Reflect, smaller package and in my opinion a better user interface.
Music4Ever reviewed v2017 20.0 Build 5554 on Sep 21, 2016
Bought last years bloated garbage but then found Macrium Reflect Free Edition which is easier to use & does the job perfectly. Looking at the file size for Acrosis which is around half a GIG is beyond ridiculous, Macrium is around half that. If you must have all the bells & whistles then go for Acronis, if you live on planet Earth then go for Macrium.
psycros reviewed v2016 19.0.5628 on Sep 29, 2015
ATIH 2016 drops the ball with one of the worst UIs ever seen on a utility. It takes the "flat" look to dismal new depths that harm usability. Like the previous three versions you have to dig into logs to find out even basic info like which backup job ran last. It also failed to complete an incremental backup based on a ATIH 2014 full backup. Not impressed at all.
Steve1209 reviewed v2016 19.0.3039 Beta on Sep 3, 2015
I used Acronis years ago on my Windows XP computer, when I upgraded to Win 7, I started using the Windows 7 backup and restore feature which worked well for me. I just upgraded my win 7 system to Windows 10 but when I created a Windows 10 recovery disk, it would not boot on my win 10 system HUH? I downloaded ATI 2016 as a 30 day trial, created a boot disk, did a full backup and booted the ATI boot disk and tried a restore, it worked Perfectly. Plus instead of doing full backups, I now do incrementals for 14 days, then it does another full and frees up my backup disk space. I now highly recommend this software!
CyberDoc999 reviewed v2016 19.0.3039 Beta on Jun 15, 2015
BANDIT- why talk if you never used it?
it is a great app
it can image your system in under 3 mins
BANDIT- reviewed v2014 17 Build 6673 on Feb 20, 2014
The guy who builds my systems swears by this App. It's the pure
size of it that i can't figure... B U T.... There again I've never used it.

Rollback Rx .8.1 installed = 58Mb. Then add your Image sizes.
A baseLine Update gets rid of the Images. So back to 58Mb.
## (ALWAYS keep a Disk Image on External media.
A N D ... Make a Boot Disk) ##

You may even want to give this a try. (3.3Mb unpacked)
@http://www.runtime.org/driveimage-xml.htm

NOTE:
Rollback Rx v8.1 - Has to be Installed ... (58Mb) ... £/$ to Buy
driveimage-xml - can be used portably.. (3.3Mb) .. PE = F/ware
OAKsider reviewed v2012 15.0.0 Build 5545 on Sep 2, 2012
Amazingly, both the 2012 and now 2013 versions (bootable disks) will not detect the second of two "identical" drives (like Samsung SSD 64 GB and 128 GB, which are not even identical). A seemingly obvious, easily fixable, embarrassing bug that has lasted many months if not years, and speaks volumes of present-day Acronis (along with the poor reviews). Note: 2011 version does not have this problem, nor many others introduced lately. I think I now trust Microsoft's built-in, bare-bones offerings more than Acronis' bloat.
pjb reviewed v2012 15.0.0 Build 5545 on Aug 25, 2011
Fileforum are having a laugh... 113MB install?? I think not.

The link Fileforum have provided does not download the file, it takes to some software site! Shoddy!

The actual installer from Acronis is 240MB talk about a size increase over the past few versions. http://www.acronis.co.uk...ting/products/#tryorbuy

Product does what it is susposed to, however very bloated.
I personally will stick with Macrium Reflect.
Uriel reviewed v2012 15.0.0 Build 5545 on Aug 24, 2011
Better than the rest!
gurgle reviewed v2009 12 Build 9796 on Apr 14, 2011
Bloat, was good, but no more