File Details

File Size
7.3 MB
License
Commercial Demo
Operating System
Windows 2000/Server 2003/Server 2008/Vista/XP
Date Added
April 21, 2015
Total Downloads
12,258
Publisher
Usov Lab
Homepage
Allway Sync
Other Versions
Publisher's Description
Allway Sync is a free file and directory synchronizer that works on local, network or removable devices. Use it to synchronize your data between PCs, laptops, USB drives and more.
Free for Private Use.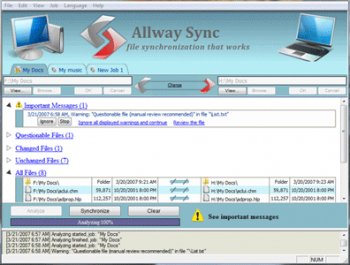 View Full-size
Latest Reviews
reviewer reviewed v11.3.0 on Jun 20, 2011
This is not free. It locks you out of your files and demands that you pay to upgrade if it thinks you have "excessive usage".
djrnz reviewed v9.1.7 on May 7, 2011
Downloaded and tested Allway Sync this afternoon. I found it excellent and perfect for my needs. The user interface is excellent, and I put it through tests and it was flawless. I am a programmer myself , and have been into computers since the 1970's. It is rare for me to ever have such a pleasant experience with new software. I did not see the program's usage limitation at all, so I am glad I read this forum!! But I would gladly pay for it. Following others recommendations of Unison, I researched that, as it is what i need for our bigger server application. But I was not successful in downloading a clean and easy install exe, and did not want to download and compile and configure it. . After a bit of hunting around, I found one, but the download froze and I gave up after three trys.
adamw reviewed v9.1.7 on Feb 27, 2011
Same problem as other reviewers stated - it failed half way through backing up My Documents folder and demanded money. Stay away.
Gripweed reviewed v9.1.7 on Dec 29, 2010
I took the time to read the EULA about the program being free after I downloaded the file to try out. It clearly states that if you process more than 40,000 files in a 30 day period you have to purchase the program. Knowing what I was going to use it for I knew I would have to pay for it since I was going to be dealing with that much or more files in any given month. I tried out the program and it did everything I wanted it to do and more unlike the other program I had previously bought, GoodSync. I purchased Allway Sync in a day after trying it out and I have no regrets whatsoever still.
River7 reviewed v9.1.7 on Dec 26, 2010
I agree with the last two posters. Allway Sync looks good, but it let me down halfway through a task when I'd exceeded the limit. More annoying than not having it at all. I had quite a lot of files to synchonise, but isn't that the point of using it. MS Synctoy and Dsynchronize both work fine. Avoid Allway, cos it'll bite you when you least need it to.
Slrmanjim reviewed v9.1.7 on Mar 13, 2009
They claim to be free. But after you use the program for a short time, they suddenly say you are using it too much and must upgrade to the paid version. What a scam. They probably cannot be trusted in other areas, too. No way would I ever use anything from this bunch of crooks.
wodez reviewed v8.5.1 on Dec 9, 2008
Use DSynchronize instead. Does all the things this program does and more + it's free.
eddycurrents reviewed v8.4.2 on Nov 4, 2008
False advertising. Their website says free for personal use, but after 3 weeks I got a warning "this doesn't look like personal use, you must buy the full program". Next time it told me "this is the last time, you are cut off".

I sync'ed 3 partitions four or five times over about three months. Basically, I backed up my hard drive about once every other week. I was at home. This was definitely personal use.

This felt like a scam. Basically it's shareware, not freeware. It's a limited time trial. I uninstalled it and went to Microsoft's synctoy, which does almost everything this program does and it really is free.
pforbes reviewed v8.3.0 on Sep 8, 2008
Excellent. BTW not valid for 9x.
cadiz reviewed v8.3.0 on Sep 6, 2008
It works very good and it is free for private usage. Tested some other tools, also free MS tool for sync files, but this does not work, file on destination should be deleted failed on other sync tools, this works really good and stable. Thank your for this nice tool!