File Details

File Size
7.4 MB
License
Shareware, $24.95
Operating System
Windows 7/8/10/2000/Vista/XP
Date Added
December 27, 2016
Total Downloads
5,462
Publisher
ALTAP
Homepage
Altap Salamander
Other Versions
Publisher's Description
Altap Salamander is a small and fast two-pane file manager with open plugin architecture. The ability to view content of files (text, html, over 40 picture formats, mp3), support for archives (zip, rar, arj, cab, tar/gzip, etc.) and intuitive user interface that is easier to learn and use, makes it widely popular substitute for Windows Explorer.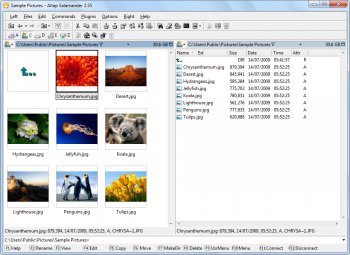 View Full-size
Latest Reviews
uzi reviewed v2.52 on Feb 12, 2010
A superb explore/ "Norton Commander" like software.

It is simple and easy to use, and yet sophisticated. It is much better than Total Commander. It is not free.

Many of the problems that other reviwers mentioned here were in the release candidate, but no longer in the official release. Version 2.52 is highly recommended if you are ready to pay its price.
cpb reviewed v2.5 on Aug 2, 2007
Have used this every day since 2003 for
high volume file management, completely
stable. Fast, non-stick ui. Elegant navigation.
Only missing: in-pane quickview mode and tabs.
Highly recommended if speed and reliability
are most important.
DudeBoyz reviewed v2.5 RC2 on Oct 28, 2006
Got some minor interface bugs that sometimes are fixed after you save the config, exit and then restart the program.

Like when I turn on Two Drive Bar and choose say Drive E:. It switches to E: ok but the drive bar still shows C: as being selected. Whenever it does that, I just close the thing, restart it and it usually fixes it.

Same thing with Column Widths. I go into the C:\Windows\ folder and manually change the width of the Name/Ext column so that it expands wide enough to put the ATTR column just barely to the left of the scroll bar. I save the config. But sometimes when I go back to say C:\, the column width changes, even though I have turned Smart adjustment to off.

I can't seem to find a way to have the viewing pane be like the one in PowerDesk - it always seems to open a new window instead of opening a view pane in the actual two panel interface itself. I'll keep looking for the option.

It looks promising, but there does seem to be much fine-tuning work to do.

I'll do a ton more testing over the 30 days of the evail and update as needed.

BTW, tabbed config scenarios would be nice. :)
Icfu reviewed v2.5 RC2 on Oct 28, 2006
It looks as if Altap would really manage to release 2.5 before Duke Nukem Forever! What a happy day this will be for people speaking other languages than English, which has been the only available official language in five years of their beta sleeping period.

* The dynamic F-keys bar at the bottom is a nice feature, but it's not configurable, doesn't autoadjust to the window width. Hard to understand why such obvious GUI bugs are not fixed.
- Where are the tabs? Announced for a future version, that's just not tolerable for a commercial OFM in 2006.
- The plugins integration is strange, a feeling as if you would call external applications. There are no plugin types with obvious similarities, it just looks as if several features had been separated from the core and thrown in a menu container.
+ Overall responsiveness and performance is very good.
+ The help file is excellent.

If Altap would invest more time in developing instead of winning a beauty contest for the documentation, Servant Salamander would still be a member of the file manager elite probably. But, unfortunately these times seem to be over. Servant Salamander is middle class meanwhile, at best.

No matter if you give it a try or not: Don't miss visiting their file manager comparison page where they compare their own "fresh" file manager with alternative outdated file managers or outdated versions of newer file managers, so it gives the wrong impression of being superior. Very funny actually, but nevertheless just poor marketing style of course.
anomoly reviewed v2.5 Beta 11 on Jan 31, 2006
I only have the FREE version 1.52. A must for any external (i.e. portable) drive. The only (explorer type) dual pane gui I know of that needs no install.
tannenwheel reviewed v2.5 Beta 11 on Jan 30, 2006
hey, i am a total commander user but i just like to give a few stars to salamander cause it just a neat piece of software. it feels like pastell molded soft plastik, wich is a uniqe and comfortable synesthetic impression that does not come with any other soft :p . also it is extremly usable. i used to love the laucher/parameter system (better than tcmd), though the menu could be more customizeable (worse than tcmd). downside is the plugin system. can't beat tcmd in that.
DudeBoyz reviewed v2.5 Beta 10a on Sep 30, 2005
I've gotten used to PowerDesk Pro, now from Vcom, but this app is still pretty cool overall. Not updated as much as I wish it was, but it does retain that classic "Norton Commander" feel, for the most part. Much better than Explorer alone, but still, it really should be updated much more frequently if it wants to stay relevant and worth the money.
janvojt reviewed v2.5 Beta 9 on Aug 1, 2005
I use this great file manager from its first version. That's..wait..yes - 7 years, so I am a bit of fan.

There are so many advantages when compared to other file managers. It is well organised, fast, supports customizable hotkeys, all common archives and work with them like with a folder,supports undeleting, has excellent file copying with buttons like Skip, Pause & Resume (BTW thisone I haven't seen anywhere else), Retry (from last copied bit!!) and others - all combined with "All" and much more. If I would name all these great functions it would be boring, so have fun discovering them.

I should also tell disadvantages. This is just the second version and nothing is completely perfect, so please be tolerant. Firstly network neighbourhood is not very practical, because you have to select exact folder in order to explore it in a panel. You cannot just explore all computers in group. FTP Client is able just to view, copy or overwrite files. You cannot edit or open file, just copy. But FTP Client is just for beta testing and I am sure it will work fine soon. Right now I am thinking about another disadvantage, but I can't find a single one.

To summarize it, I recommend this great soft to everyone. When I look back at all changes done from first to second version, I really wonder what capabilities will the third version have.
mocilo74 reviewed v2.5 Beta 9 on Jun 30, 2005
Seems ok for 20$. But if you want spent more money there is only on choice: directory opus 8. Definetly the best filemanager for windows on earth.
rainworm reviewed v2.5 Beta 7 on Nov 28, 2004
Getting better and better! Every beta-version brings new excellent plugins. When the FTP-Plugin is finished, then everyone should switch from TotalCommander to Servant Salamander...