File Details

File Size
10.4 MB
License
Freeware
Operating System
Windows Server 2003/Server 2008/Vista/XP
Date Added
August 12, 2010
Total Downloads
3,229
Publisher
Gladiators Software
Homepage
Aston2 Menu
Publisher's Description
Aston2 Menu opens the new line of Aston2 products. It completely replaces regular start menu and can be customized and filled with different widgets. Aston2 Menu is skinnable, supports animation, has flexible configuration and is very convenient.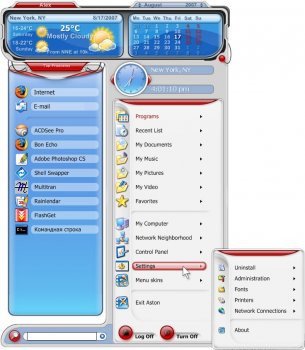 View Full-size
Latest Reviews
nandla reviewed v2.0.3 on Sep 14, 2014
Aston2 Menu is absolutely astonishing to use at http://realestateempireg...m/community/doral-isles/
Mongoplus reviewed v2.0.3 on Aug 12, 2010
This program is not Freeware. Form the Devepoler's site, the program costs $19.95.
CyberDoc999 reviewed v1.6.0 on Dec 18, 2009
this crashes every 2 minutes
mikiostojic reviewed v1.3.1 on Apr 25, 2009
Dear visitors. I have just seen excellent interface. It looks so excellent job.. As to me I give it 4 stars and I would like to recommend but it seem that we have to pay the licence key. I don't understand what they want to do< buy or not buy> ( As for me myself please, forgive me my language mistakes. Thanks. Miki from Europa/Serbia
bartowick9 reviewed v1.3 on Oct 9, 2008
handy lil prog. i love the way it puts things in alphabetical order...there are some pretty nice skins too. about as heavy on recources as vistart,vistastart.for me this works best...and you can customize,one dosnt have to have the weather or clock or calandar to show....i give it a strong 4 stars and would recommend it.
Zoroaster reviewed v1.2.1 on Aug 7, 2008
Looks so flashy I wouldn't even bother trying it.
My score is a neutral 3.
dhry reviewed v1.2.1 on Aug 7, 2008
Bloated, useless rubbish. 8Mb for the installation archive? Use the regular start menu, save memory, and use a different widget-oriented system such as Opera or Yahoo if you really need that sort of thing (which you don't - the software authors only try to TELL you you do).
Tao2005 reviewed v1.2.1 on Aug 7, 2008
Hate to tell you this boys, but Vistastartmenu is better. Even the registered version. No one can beat Vistastartmenu.

This is to cumbersome for my PC.
themiddaysun reviewed vBeta 1 on Sep 10, 2007
You guys all rated it based on how much u liked it, not based on how well it worked, if at all. Personal preference is just that, personal, so what you dont like, others may like. I'm rating a 3 just to try and bring up the low rating due to personal preferences. I have Linux, therefore I cannot use this utility to see if it works as described.
Gerhard reviewed vBeta 1 on Sep 10, 2007
The idea to skin the start menu is interesting, however is badly done, slows everything down and there is no real gain over the standard start menu of XP.

BTW the horrible skins included don't help either.

I did not like it!