File Details

File Size
1.8 MB
License
Freeware
Operating System
Windows (All)
Date Added
October 30, 2014
Total Downloads
7,580
Publisher
Bill2
Homepage
Bill2's Process Manager
Publisher's Description
Bill2's Process Manager is a free software for Windows 2000, XP and Vista, for multicore PC. You can create rules to set priority and affinity for all processes. Rules are automatically applied when a process is detected. Include complete perfs and stats window, and many options in a clear and easy to use GUI.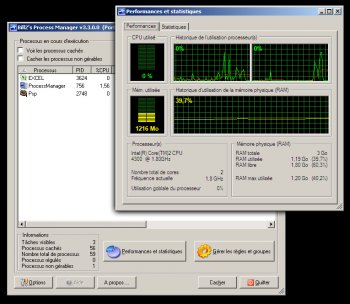 View Full-size
Latest Reviews
Bill2 reviewed v3.4.1.2 on Dec 16, 2009
@gdoodle : the first launch of a .net program is always a little but longer than normal.
And for the ram usage, well, if you minimize the window, it uses less ;)
(and the soft is in minimized mode most of the time ...)
But I agree, It is not designed for too old computer.
(P4 with 1go is not a good idea I think)
gdoodle reviewed v3.4.1.2 on Dec 15, 2009
It took at least 10 seconds just to show up in the system tray, and was using 50MB of RAM. I guess my computer is just old, but it is too heavy for me. Nice work though, I am sure for newer computers it does just fine.
stisev reviewed v3.4.0.0 on Nov 24, 2009
Nice program. Thanks for making portable. We light-weight portable users really appreciate that!

QUESTION: Any command line entry to FORCE bill2's process manager to be minimized *if running a shortcut on our own*

BUG: Latest version 3.4.0.0 crashes on my XP SP2 after clicking "Performances and Statistics" button. Happens every time.

Otherwise, perfect!
Bill2 reviewed v3.4.0.0 on Nov 13, 2009
Right, you've find a bug with the confirm option, I will fix it for the next minor release.

For the inactivity delay, 5 seconds can be very dangerous.
The 1 minute limit seems to be enough for every one.
But you can override it: just edit manually the config.xml
Search for the rule you want, then locate the XXXX
The value is in milliseconds, so just use 5000, and the rule will for fine.
(But there may be an error if you try to edit it again with the GUI ... not yet tested these case)

edit @Stisev: there are command line options.
Just add " -minimized" and it's ok :) (it's used to run minimized at startup ...)
For the bug/crash you notice in Perfs/Stats Window, could you please send me a crash report, or contact me to give more details? Thanks.
anomoly reviewed v3.4.0.0 on Nov 12, 2009
GUI works perfect so far and I'm not even using the auto option. Only bug is the confirm on close option. I have unchecked them all & it asks anyway.
Tray icon animation is a moot point under sharpe shell. As long as I have one & it opens with a single click (though a choice for the static icon would be ever so nice, it's tiny and should imo be simpler and more colorful). Mercì I tried to use reshacker to change the icon but I may need more practice-lol
Can not seem to get it to be a taskmgr.exe replacement but processx can still do that job for now. Nice update & lower on resources than processx. Better than ALL the rest.
En réalité, une option unique et utile.
10+
The kill at idle works perfect! (5s) for a sheduled portable clamwin update bat file under jit.
Magnifique!
Bill2 reviewed v3.3.1.1 on May 15, 2009
@Anomoly:
I don't understand what is not working.
Have you open the Perfs&Stats window? It must be option to have CPU indication in the systray (check options if necessary)
anomoly reviewed v3.3.1.1 on May 14, 2009
OK, it appears to want to work now. Restarting it somehow fixed it. (not like I haven't tried that before). After using automatic priority, I can say it works without issue. QUESTION, after adding an exception to the automatic list, how would one remove that exception?
2 suggestions: replace task mgr option, and open with 1(one) left-click. It is truly amazing how long ms has been selling their bloat with hardly any control at all.
And after a boot not working AGAIN
10+
Bill2 reviewed v3.3.1.0 on May 13, 2009
@anomoly:
The GUI bug in the main window has just been fixed en new version (3.3.1.1)

The fact that reoder column and change display size are not save is simple : you are working in portable mode, and thoses informations are stored on the HDD. So in portable mode, they are not saved: no remaining traces, for exemple if you use the soft from a USB Key on a friend's computer.

The installer let a uninstall link, it's normal, even if you choose to intall in portable mode.
You can use the zip file on my website to "really" use a portable version, without installer.

And .. you say the tray icon is reporting false CPU usage ?
Well, I've never seen this bug before. Seems strange. Can you send me a mail with more informations ? Thanks.
anomoly reviewed v3.3.1.0 on Apr 30, 2009
Has a portable mode install like foobar-except it acts like an installer and if you install both in portable and then in standard mode it will not work properly. As well the portable folder has an uninstall command included for some reason. This does exactly what process lasso fails to do with their free version. Killing tasks (ati hotkey poller) after boot is easy now.
Only problems are with the gui: After you organize the column tabs, hide, and then reopen it, it goes back to a totally default display. Reopening tray icon (which only displayed cpu usage correctly ONCE) gives a garbled gui.
I simply added itself to it's kill commands. It set priorities, kills hotkey poller, and then dies. Funny thing is now it will ONLY run but once and that is after booting-lol. Fix the tray cpu display and the retarded gui which can't even open correctly much less remember anything & maybe I can test the automatic process handling.
Good stuff otherwise, almost replaces process explorer for me.
Don't bother with the website OR the chm file unless u sprechen de french
Bill2 reviewed v3.3.0.0 on Feb 4, 2009
gawd21>
I know there's a bug when you choose to install only English: the soft start in french.
It will be fixed in the next version, by the end of the week.

For the moment, just clic on the "options" button, and choose "english" from the listbox. You don't have to speak french to find how to change language, because the the option is always visible in the options window, and not hidden deep in a submenu tree ...