File Details

File Size
2.4 MB
License
Freeware
Operating System
Windows (All)
Date Added
December 29, 2010
Total Downloads
3,001,585
Publisher
ByteLinker Inc.
Homepage
BitSpirit
Publisher's Description
BitSpirit is a powerful and easy-to-use BitTorrent client which provides not only full BitTorrent protocol implementation but also many personalized features. It supports simultaneous downloads, download queue, UPNP port-maping, NAT traversal(UDP transport), select downloads from multiple files torrent package, disk cache, chatting with other peers, torrent market,ip-filter, etc.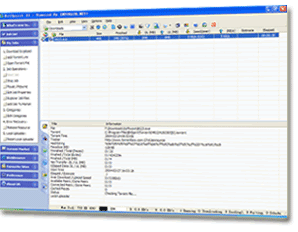 View Full-size
Latest Reviews
chrispaul reviewed v3.6.0.550 on Feb 17, 2014
excellent!
barrytbutler reviewed v3.6.0.550 on Jan 29, 2014
3 stars for this one. good idea, poor execution. could be much better
jacobjackson reviewed v3.6.0.550 on Aug 24, 2013
bitspirit rocks
johnk119 reviewed v3.6.0.500 on Oct 26, 2010
Although I haven't downloaded this program to try it... I'd like to provide my opinion... I stick with vuze classic interface, because of it's many configuration problems... I found in utorrent I had to micromanage the queue of downloaded torrents to insure they reached 1:1 upload/download ratio.
grinch89 reviewed v3.6.0.500 on Oct 25, 2010
Well,in a head to head test , tixati blows BitSpirit out of the water, no contest. I have tried many bittorrent clients and tixati is the fastest most reliable client I have tried.
lksd reviewed v3.6.0.336 on Feb 2, 2010
Have been using BitSpirit since is appeared out from nowhere. Then somehow BitSpirit wen under the radar, I was sure project was dead so I dropped it in favor of uTorrent, but... BitSpirit is BACK. It is better it is faster it will save the world... well perhaps not, but I'm glad I can switch over to my favorite torrent client.

Like description says, it is fast, lightweight and very advanced. Word of caution though, i have run in to trouble when I had two devices on the same subnet with UPNP. It was my fault in setting up one router, it shouldn't have UPNP on. Therefore if BitSpirit status says that Port Forward has failed, check your network it may be YOUR FAULT and not the software.

Cheers :)
radiomaffia reviewed v3.6.0.330 on Nov 12, 2009
@Havokdan:

You can uncheck Ask Toolbar in uTorrent while installing and something has to make money when apps are freeware...
sehnbadt reviewed v3.6.0.315 on Nov 9, 2009
BitSpirit has always been good, reliable and fast for me. A good alternative to ?Torrent since it was purchased by BitTorrent, Inc and has partnerships with many entertainment companies according to their website.
thinkingman reviewed v3.6.0.315 on Oct 31, 2009
Well, despite this website's lame "Download Now" button which was huge but ironically enough impossible to see amongst the seventeen "Download Now" button ads all over the page, I must say this is some pretty decent software. I'm a Mac guy who has a Mac workstation that he boots into Win 7 for some game dev software and I noticed that there's a huge lack of good Windows shareware out there - yes, there's a LOT of it, but most of it is complete garbage or infested with malware. So anyway, this program is *not* infested with malware (yet) and is pretty decent. My favorite program has always been Transmission, though, so you guys may want to check that out too.
Second Shadow reviewed v3.6.0.126 Beta on Jul 21, 2009
Getting better

BitSpirit ChangeLog

[Jul 17, 2009] v3.6.0.126 Beta
Added: IPv6 support
Added: Private Tracker support
Added: Add new task via magnet URI support
Added: Show share ratio in task list
Added: Show available peer number in task list
Added: Show tracker list in the information window and allow manual operation
Added: Filter by filename extension support when select download files
Improved: Better disk I/O performance, download/upload smoothly over 6MB/s
Improved: Better performance on task schedule, more powerful and easier to use
Improved: The newest BT Tracker protocol support
Improved: The newest BT extend protocol support
Improved: New preference user-interface, clearer and easier to use
Improved: New and clearer information window
Improved: Support global connection limit (only support limit by each task in previous versions)
Improved: Lower memory usage in hash checking when task finished
Improved: Stop task faster
Improved: Lower memory usage when there are too many finished tasks in the task list
Improved: Lower memory usage on large size task (> 10GB) or large size piece (>4MB)
Improved: Better upload performance of super seeds
Improved Self-configure for windows firewall after version XP SP2
Fixed: DHT sometimes saves wrong port number on accepting announce
Fixed: BitSpirit sometimes doesn't act correctly when requests refused (happen rarely)
Fixed: BitSpirit sometimes ignores the missing pieces in hash checking after task finished (happen rarely)
Fixed: Other minor bugs fixed

NOTE: BitSpirit V3.6.0 supports platform 2000SP4/XP/Vista/Win7, and XP SP2?SP3/Vista SP2/Win7 is recommended.