File Details

File Size
0.9 MB
License
Freeware
Operating System
Windows 2000/Server 2003/XP
Date Added
April 23, 2004
Total Downloads
18,883
Publisher
Stardock Corp.
Homepage
BootSkin
Publisher's Description
Stardock BootSkin is a program that allows users to change their Windows 2000 and Windows XP boot screens. Unlike other programs that can change the Windows XP boot screens, this does so in a safe manner. It doesn't patch the Windows XP kernel, nor does it require the user to download replacement Windows XP kernels to do so.
This has 2 advantages: 1) Boot screens that use BootSkin are typically under 20K compared to other boot screen programs whose files are over 2 MEGABYTES. 2) There is no risk of having your system unable to boot due to a corrupted file or after applying a service pack.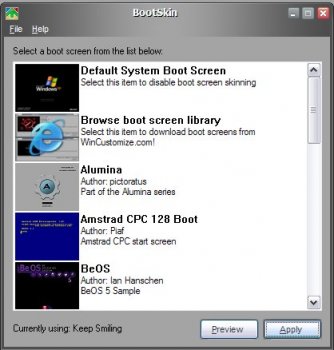 View Full-size
Latest Reviews
httpd.confused reviewed v1.05a on Dec 23, 2004
http://www.sysinternals....tw2k/info/bootini.shtml

My rating isn't because there's a native way to replace the boot screen; it's because I hate Stardock and all the crap they puke out.
styckx reviewed v1.05 on Apr 25, 2004
Been using this since the beta releases, always worked flawlessly.
CyberHobo reviewed v1.05 on Apr 25, 2004
Will rate is a three (***) when it skins the shutdown screen as well. Anyway, my rigs so fast that I don't even see the boot screen. Cheerio!
madk0w reviewed v1.05 on Apr 25, 2004
Alright, so i'm sorry i called some of you morons, i was just feeling pushed in a corner with comments that don't really seem to be justified in my eyes,... maybe you have troubles with the program, but i don't.. and i always have trouble with running programs but when they do run properly it's worth mentioning i guess..

Anyway, it doesn't matter how much registry keys this program adds, as long as it doesn't hack up your kernel, so i don't know but i'd rather have my registry al hacked up than my kernel, cause some of those aren't system restorable..

And another thing,.. it's not because one thinks that programs like bootskin aren't necessary that's it's worth to rate it so bad..

Maybe you don't understand the meaning of this rate-thingie.. you rate the PROGRAM not your comment about those kinds of programs.. else you totaly skew the true rating.. function is what matters here..

This program does it's job wel so i rate it 5.
Orbit reviewed v1.05 on Apr 25, 2004
How about we rename this to: Bootskin of Death ?
Get it? For a program that isn't supposed to mess with your boot process if it doesn't work, just have to say, that's not true. If it doesn't work, you won't boot at all, in my experience. Just say no.
Nigma reviewed v1.05 on Apr 25, 2004
Tried to use "Random Boot Screen at startup". After a restart i got a blue screen.
  reviewed v1.05 on Apr 25, 2004
Hey, murassmeblade, if someone complains about the lack of a feature (such as randomization), and that feature is added LATER, the comment was still valid at the time. Free clue: Check the VERSION that is associated with comments before you complain. Anyway... BootSkin is just a freebie that Stardock hopes will suck you into their evil, unstable, bloatware web of system problems and slowdowns. Why anyone would want to hassle with this to make their boot screen cutesy is beyond me.
fightback reviewed v1.03 on Apr 5, 2004
Was neat till I realized it messed something up and would not allow my computer to hibernate anymore. Shouldn't be a problem for most people that shut down their computers, but I like to hibernate my laptop when I'm not using it.
murassmeblade reviewed v1.03 on Apr 4, 2004
ARE YOU PEOPLE BLIND!

version 1.03 DOES HAVE random bootscreen at startup option.
geminiz reviewed v1.03 on Apr 4, 2004
comments like below is just stupid.
if the program is not doing something you are interest, then why the hell would u install it?
The program does exactly what it advertise. If you can't read the summary, then that's your problem.
bxtching about something not useful to you personally is just as stupid as if all the windows users start giving zero on linux/mac wares simply cuz they can't use it on windows.