File Details

File Size
41.7 MB
License
Freeware
Operating System
Windows (All)
Date Added
March 17, 2021
Total Downloads
16,423
Publisher
Bullzip.com
Homepage
Bullzip PDF Printer
Publisher's Description
Bullzip PDF Printer works as a Microsoft Windows printer and allows you to write PDF documents from virtually any Microsoft Windows application. It also allows you to write BMP, ESP, JPEG, PCX, PNG, PS, TIFF files.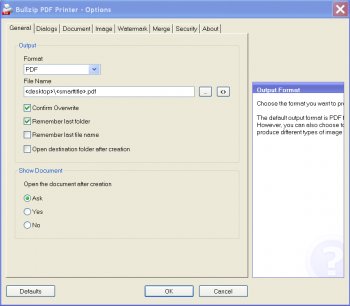 View Full-size
Latest Reviews
alalec reviewed v9.6.0.1582 on Mar 4, 2013
If the developer of this application has been struggling to gain some money through forcing the installation of third party software, could you tell me why these third parties are paying him dollars for the FREE installation of their software? What is else than spying and stealing your data.
From this point of view there are three categories of software developers: the GOOD, the BAD and the CORRUPTED. The good becomes corrupted when he installs third party bad and unwanted software.
dsp_418 reviewed v9.6.0.1582 on Mar 4, 2013
Imo one of the best around.
I'm not getting any issue with the AVG toolbar: I just unchecked the option and the install was clean, didn't get any unwanted toolbar.
pjafrombbay reviewed v9.4.0.1570 on Feb 19, 2013
Version 9.4.0.1570
----------------------
I have rated this software at 5 stars in the past. Its still good software but the developer is now including crapware. There is a paid version without the crapware but at USD29 it is just too expensive. USD15 would be a fair price.

I have uninstalled Bullzip and am returning to doPDF. I might even purchase a copy of NovaPDF Light.

FOLLOW UP: I have since spoken to the developer and he was responsive to this issue. He has apparently made the AGV Toolbar an optional install. However, after my initial experience I simply do not trust the process so will remain with doPDF.

This IS a real issue; developers deserve to make something for all their efforts (unless they choose open source). I don't mind paying for good software, and Bulzip is/was good software. However the $29 "Professional" version is simply too expensive for what it is. doPDF has paid versions (novaPDF) and I would consider these if the current situation with doPDF changes.

Developers ought to look at other alternatives to monitorising their software; crapware is a very quick way to loose users.

Regards,
Peter
Zoroaster reviewed v9.4.0.1570 on Feb 19, 2013
AVG sponsors the free download with an optional offering. Fine. Why not?

What is not acceptable is that the AVG product is installed even when it has been refused (2 boxes unchecked) during Bullzip PDF Printer 9.4.0.1570 install !

I unchecked, I refused, I said NO. Yet AVG was installed.
I removed AVG from Windows, it removed files, but left garbage including
Legacy keys in Registry. Took me half an hour to get all things neat.

CRAPS. Yes, a product can be sponsored, but the user must be respected. This is a total shame. Bullzip over here, I'll return to past alternatives.

BullZip PDF Printer 9.4.0.1570 | 4.7 MB (Freeware, NO AVG sponsor) available here :
http://www.skumbadet.dk/...FPrinter_9_4_0_1570.exe
alalec reviewed v9.4.0.1570 on Feb 19, 2013
Unfortunately this is not an update neither a new release. The purpose of this version is to force the installation of a third party software on your PC. Even if you say NO to the installation of the spying software offer it is installed!
In conclusion, choose another PDF software which respect you and your PC and avoid data thieves. Unfortunately several software developers are specialized in issuing new release every other day in the purpose of gaining few dollars through forcing the installation of third party spying software.
Blaxima reviewed v8.4.0.1425 on Aug 31, 2012
Still the best pdf printer.

Green Cloud is ok but it lacks the ability to choose the size and quality of your pdf which is paramount when dealing with larger ones.
pjafrombbay reviewed v8.4.0.1425 on Aug 30, 2012
Simply the best PDF printer available (and I've tried most over the years). I give very few products a five star rating so it shows my support for this one.

Use it in conjunction with Sumatra PDF viewer.

Regards,
Peter
oompoop reviewed v8.2.0.1406 on Apr 11, 2012
Maybe, ... but if you ever try GreenCloudPrinter, you may have all you want!
Blaxima reviewed v8.2.0.1394 on Mar 7, 2012
If anyone is interested in seeing the changes
http://www.bullzip.com/p...info.php#VersionHistory
Blaxima reviewed v7.2.0.1317 on Sep 15, 2011
This is as easy as it gets with great results.
- Choose the print option
- Select the Bullzip Printer
- Choose the format and quality you want
Done

Great program!!