Other Versions
Publisher's Description
CCCP (Combined Community Codec Pack) is a filter pack specifically built for playing anime. It has been assembled by some of the most knowledgeable people in the anime world, and one of the primary design goals is to play as much possible with as little as possible. It attempts to be as unintrusive on your system as possible.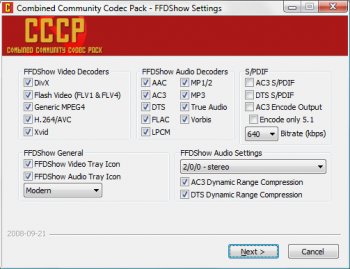 View Full-size
Latest Reviews
mikebratley reviewed v2014-03-09 on Mar 11, 2014
excellent
chrispaul reviewed v2014-02-17 Beta on Feb 17, 2014
5 stars!
olivergiving reviewed v2013-08-01 RC5 on Sep 25, 2013
great
alphard reviewed v2013-04-20 on Apr 23, 2013
Felmens and another....

The CCCP not one "simple codec packs". This is originally for the playback of anime fansubs products. The CCCP is developed and maintained by members of various fansubbing groups.
The anime products encoder members working in a setting that is definitely viewed this codec pack. Any encoder/codec that was use can be just like, but it should play in CCCP.

However, while playing everything... But basically the target group the anime fans. :)
Flemens reviewed v2013-03-02 on Mar 5, 2013
Now, here is maybe a stupid question, but why would I want to use these instead ov VLC for example? Vlc can also play everything I throw at it. Since there are alot of you out there that actually uses CCCP you must know something I dont :)
Nischi reviewed v2012-12-23 Beta on Dec 27, 2012
Been using for quite a few years now, has everything you need as a normal user, media player classic is included as well but is not required to install along the codecs.
Andem reviewed v2011-11-10 Beta on Aug 27, 2012
One of the best codec packs, despite its name :)
The Seeker 11 reviewed v2011-10-29 Beta on Oct 31, 2011
If you're looking for a codec pack, use this. It installs a minima amount of software that will allow you to play anything you throw at it. No 20+ MB packages with hidden adware.
mapleci reviewed v2011-07-30 on Aug 3, 2011
easy and powerful, cover all video files.
CyberDoc999 reviewed v2011-05-28 Beta on Jun 1, 2011
best of best