File Details

File Size
6.0 MB
License
Freeware
Operating System
Windows (All)
Date Added
December 30, 2020
Total Downloads
94,493
Publisher
Stefan Haglund
Homepage
CDBurnerXP
Publisher's Description
CDBurnerXP is a free application to burn CDs and DVDs, including Blu-Ray and HD-DVDs. It also includes the feature to burn and create ISOs, as well as a multilanguage interface. Everyone, even companies, can use it for free. It does not include adware or similar malicious components.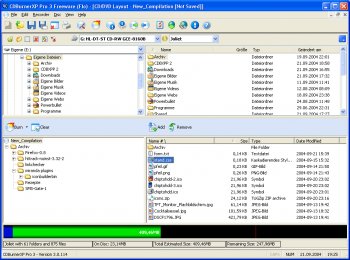 View Full-size
Latest Reviews
Morningdove reviewed v4.5.7.6623 on May 8, 2017
If you are concerned about OpenCandy, block Internet access during installation. (This applies to most programs offering OpenCandy as well as some other PUPs.) CDBurnerXP also offers a minimal version which contains no extra software, as well as a portable version containing no extra software.

NOTE: This post may not be completely up to date, as I now use the portable version and have not downloaded either installer for quite some time.
uzi reviewed v4.5.7.6139 on May 16, 2016
An excellent CD/DVD program. Personally, I'm not bothered by the OpenCandy "Malware". The OpenCandy module runs only during installation of the hosting program (CDBurnerXP). It poses a very minor privacy issue by sending to the server a list of your installed program (without identifying information), and then offers a program or two to you, which you should refuse, (unless you consciously decide you want it). The list of installed programs is not kept, and if you refuse the installation of those extra offers, no harm is done.
If I'm concerned about OpenCandy's privacy, that I should be much more concerned with Microsoft's and Google's privacy policies which are by far more invasive.
nilst2006 reviewed v4.5.6.5931 on Nov 16, 2015
Symantec Endpoint Protection 12.1.6168.6000 delete any download of CDBurnerXP 4.5.6.5931 and says it is a PUA.OpenCandy and is malware.
stevvie reviewed v4.5.5.5571 on Apr 25, 2015
The BEST lightweight and portable CD/Audio CD burner. Just does what its supposed to.
egg83 reviewed v4.5.3.4746 on Apr 23, 2014
Has always worked for me, 5 stars
mikebratley reviewed v4.5.3.4643 on Mar 11, 2014
great
chrispaul reviewed v4.5.2.4478 on Feb 17, 2014
awesome
olivergiving reviewed v4.5.2.4291 on Sep 25, 2013
great tool this is!
tylergierke reviewed v4.5.2.4214 on Aug 23, 2013
cdburnerxp is great
DrTeeth reviewed v4.5.0.3552 Beta on Nov 11, 2012
The programmer releases a version without the crapware (Opencandy) a few days after the release that contains it. The beta is also available in both versions.