File Details

File Size
1.4 MB
License
Freeware
Operating System
Windows 2000/9x/Server 2003/XP
Date Added
October 4, 2008
Total Downloads
63,699
Publisher
Fusion
Homepage
CDCheck
Publisher's Description
CDCheck is an application that checks your CD-ROM and tells you which files are corrupted. It can also do a binary compare with copy on disk. It is especially useful for testing old CDs or just burned CDs to see if they are OK. If some files are corrupted that means it would be wise to move your data to some other media or copy it on another CD.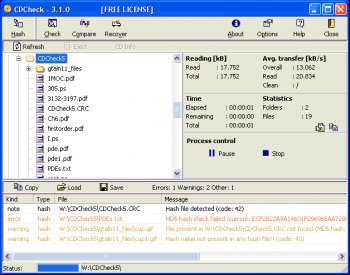 View Full-size
Latest Reviews
noella reviewed v3.1.14.0 on Jul 11, 2010
I use alot of freeware but I rarely write comment on anyone. But I really want to write a comment on CD check..coz it really work! I got a VCD which has a serious scratch mark what had been done by my 1.6 year old son (well he just played the VCD like UFO..nothing much) and his most favorite Elmo VCD could not be read at all. I used a lot of freeware or shareware, trying to convert or copy to my PC..all said they were the best however the VCD still couldnt pass through and kept loading on the scratch mark. But when I used CD Check, it successfully read the VCD and copied to my PC without hanged! Thanks BN you really do a good job! and It is Free!
hovhaness reviewed v3.1.14.0 on Dec 29, 2008
Excellent..
Yes & Free. Just need to register this app.
I picked it up because I just received a DVP for
xmas, & had a loved anime series burned on about 50 Cdr's.
I wanted to load them back to my pc to create long play file DVD's all in avi format to play on my DVP to watch on tv.
10 dvd's beats the hell out of 50 cdr's..lol
Well I ran into several discs with read errors & that sucked.
Now i would have an incomplete series.

This great app rescued my video files.
As I write this review I am loading my rescued avi files to dvd..
This is a must have app..
poisonu reviewed v3.1.14.0 on Oct 7, 2008
It is FREE for personal use.....
Scary Guy reviewed v3.1.14.0 on Oct 6, 2008
30 day timeout /= freeware
poisonu reviewed v3.1.13.0 on Oct 5, 2008
04Oct08
CDCheck 3.1.14.0 is available on CDCheck website.

Comment: This version brings only a few small changes. The most important are probably better default settings for buffers which should speed up CDCheck.

List of changes in 3.1.14.0:
* new better default buffer settings
* languages added / improved
* when entering registration code spaces are ignored
* when using /gcompare reference directory can also be specified
+ wav handling string appended (not yet supported when checking)
- fixed a small bug in hash error reporting
- saved items history now accepts zero (no history)

Links:
Changes: http://www.kvipu.com/CDCheck/Help/history.html
Download: http://www.kvipu.com/CDCheck/download.php
YCZo3Hld reviewed v3.1.13.0 on Mar 10, 2008
Publisher's Homepage should be updated to

http://www.kvipu.com/CDCheck/
dejavu reviewed v3.1.13.0 on Apr 9, 2007
I never had problems with CDCheck. Essential after burn my backups!
Deedstyger reviewed v3.1.12.0 on Dec 23, 2006
killed my lg 8521b cdrom while scanning.

get away from this prog. i m not lying.
poisonu reviewed v3.1.12.0 on Nov 16, 2006
Have been using it for years.
Superb!
..and Free...
miki4000 reviewed v3.1.11.0 on Mar 11, 2006
Wow, really great software!