File Details

File Size
2.0 MB
License
Freeware
Operating System
Windows (All)
Date Added
March 1, 2023
Total Downloads
191,368
Publisher
CPUID
Homepage
CPU-Z
Publisher's Description
CPU-Z is a diagnostic tool that provides information on your CPU, including: processor name and vendor, core stepping and process, processor package, internal and external clocks, clock multiplier, partial overclock detection, processor features, supported instructions sets, L1 and L2 cache information, location, size, speed, and technology.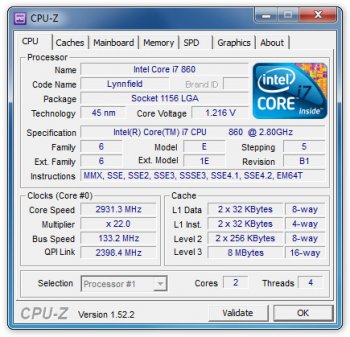 View Full-size
Latest Reviews
Bradbull reviewed v1.70 on Aug 6, 2014
Comprehensive tool, very useful when you want detailed info about your computer.
noBuddy reviewed v1.65.1 on Jul 16, 2013
Very good, helps a lot.
If you´re afraid to install adware: just download the non-install zip version from their homepage. That version deserves a 5+
Music4Ever reviewed v1.63 on Feb 11, 2013
Very useful, beware of tool-bar installation though as mentioned below.
FatBastard reviewed v1.63 on Feb 10, 2013
Still going strong
dannyboy832 reviewed v1.58 on Jun 25, 2011
Remember that if you deselect 'install ask toolbar' but leave other ones like set my home page to ask.com then it might still install toolbar.

I just untick EVERYTHING thats not related to the program I'm installing
FatBastard reviewed v1.57 on Feb 21, 2011
Great tool.
andrewbmoore reviewed v1.56 on Oct 27, 2010
Previous version failed to load due to beta expiration. This version fixed the issue perfectly. I've been using this tool to identify chip-set components and verify CPU speed scaling in my Intel i7 laptop. Regarding the previous poster, though I dislike programs that bundle the Ask Toolbar as much as anyone, unselecting the checkbox during setup DID stop the toolbar from being installed in my case.
jotte_ct reviewed v1.56 on Oct 27, 2010
CPU-Z its a great program.
But only 2 stars because it comes w/ AskToolbar and even when you deselect it at installation time, it would install no matter what you selected and then there is no uninstall...
The MAZZTer reviewed v1.55.2 Beta on Oct 19, 2010
CPU-Z betas are time limited, so the MOST RECENT VERSION NO LONGER FUNCTIONS. This is dumb.
AdamS reviewed v1.55 on Jul 11, 2010
Was using speedfan to check system specs before, this is much better.