File Details

File Size
5.3 MB
License
Freeware
Operating System
Windows 7/8/Vista/XP
Date Added
November 4, 2019
Total Downloads
5,593
Publisher
Bleeping Computer LLC
Homepage
ComboFix
Publisher's Description
ComboFix is a program that scans your computer for known malware, and when found, attempts to clean these infections automatically. In addition to being able to remove a large amount of the most common and current malware, ComboFix also displays a report that can be used by trained helpers to remove malware that is not automatically removed by the program.
Windows 8.1 and Windows 2000 are NOT supported by ComboFix.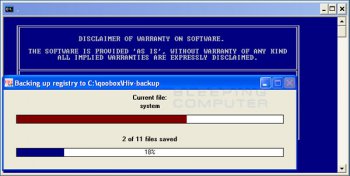 View Full-size
Latest Reviews
zagsur reviewed v15.3.23.1 on Mar 23, 2015
Oh yeah baby!
This is must have tool!
Used on many-many infected computers - it's a awesome.
Don't listen - take it & fix it!
janno6 reviewed v14.11.18.1 on Nov 21, 2014
In win 8.1 it shows :D

---------------------------
ComboFix
---------------------------
This operating system is not supported!
ComboFix only runs on:

* Windows XP (32 bit)
* Windows Vista (32/64 bit)
* Windows 7 (32/64 bit)
* Windows 8 (32/64 bit)

Windows 2000 is no longer supported.
---------------------------
OK
---------------------------
CyberDoc999 reviewed v14.11.17.1 on Nov 20, 2014
this may be good for those who run XP... but on 7 and 8 it is a bad idea.. good to see win 8 block it from installing
lblauen reviewed v14.11.11.1 on Nov 11, 2014
wont see that im running win8.1 thinks im running win2000 so cant install. im also running 64bit. oh well
humbleuser reviewed v14.10.29.1 on Nov 2, 2014
I've used this on LOTS of computers and it is a real asset in any anti malware kit. I use it when things have got really messy, and it delivers. Never had a crashed PC from it but lots of saved PCs.
plasticpig72 reviewed v14.10.29.1 on Oct 31, 2014
It is completely beyond me why you keep slating this excellent piece of software. It has NEVER failed me EVER.
CyberDoc999 reviewed v14.9.5.1 on Sep 5, 2014
Fast777... Why are you shouting? Combo Fix is only used by Noob's ... only 1 Starzzzzzzzzz ... it is FUBAR
fast777 reviewed v14.8.31.1 on Sep 3, 2014
SINPLY ONE OF THE BEST, USE WITH RKILL AND OTHERS AND YOU'LL KILL ALL THE NASTY STUFF DEAD... REALLY... THIS IS A GREAT UTIL... USED AS PART OF A TOTAL ATTACK TEAM..... 5 STARZZZ..
CyberDoc999 reviewed v14.8.31.1 on Sep 3, 2014
I dare you to run this on lots of computers! it is like killing a fly with a hammer!
it is total FUBAR ... the only person that would use this is unprofessional and is fixing computers for free and thus does not care about the outcome.
Šbb Kbb reviewed v14.8.31.1 on Sep 2, 2014
Please stop judging this program based on your reading comprehension and don't be scared.
We,the people that can read,write and use computers assure you that this program is fine and does what its meant to.

Next time when you encounter a scary program that you don't understand please ask and we will explain it to you. Don't give it bad ratings!