File Details

File Size
9.9 MB
License
Freeware
Operating System
Windows 7/Server 2003/Vista/XP
Date Added
December 10, 2010
Total Downloads
5,196
Publisher
Comodo Group, Inc.
Homepage
Comodo System Cleaner
Publisher's Description
Comodo System Cleaner is the world's first cleaner to harness the power of 100% safe cleaning, and now it's portable. It utilizes the revolutionary innovation of SafeDelete, a feature that allows users to safely recover any files deleted in error. This advancement eliminates risk from the process of PC cleaning. Because CSC is entirely risk-free, it can clean deeper and more thoroughly than any other cleaner available. This portable version can be deployed on any removable storage device, such as a USB drive.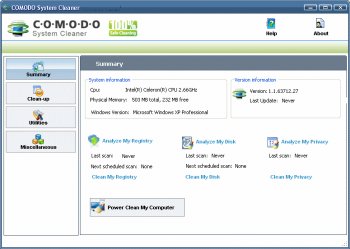 View Full-size
Latest Reviews
ComputerLuvr reviewed v3.0.172695.53 on Mar 12, 2011
EXCELLENT. I use this on my home computer and have no issues what so ever. I've used Comodo products for years. It's very user friendly and there are options to select and it doesn't affect your OS at all. I highly recommend this cleaner to all my customers. I've been in the computer field for over 30 years and Comodo has outstanding products. I also use the Comodo Internet Security Premium on my home computer. My computer has never run better. I wish there were ten stars to give to this TERRIFIC product. :-)
Input Overload reviewed v3.0.150523 Build 4 Beta on Aug 19, 2010
Still no problems with it. What on earth do you people do to mess your PC's up?

It seems to me they either messed up before or for them realise programs need 'setting up', this requires intelligence, if you have none keep away from Windows utils.
anomoly reviewed v3.0.150523 Build 4 Beta on Aug 18, 2010
http://system-cleaner.comodo.com/download.html
Portable version which btw is still at 2.2.3... why? And you can not simply overwrite it with the install files either.
Everything it does requires a reboot. Actually 2 if you really want to check as it does it's most work on the reboot.
Nice ap for simple cleaning.
The reboot always is somewhat a putoff but for some files it's the only way I guess.
At least it doesn't clamor for net access like ccleaner which is crap imo.
It makes backups so no worries there.
reddy.shyam reviewed v2.2.129172.4 on Jan 27, 2010
No issues my end. Runs smoothly and does whats supposed to.
craigun reviewed v2.2.129172.4 on Jan 27, 2010
Do you value your system? Then don't try this without a complete backup and re-install of your OS.
Input Overload reviewed v2.2.126408.3 on Jan 10, 2010
I've been trying this for a couple of weeks on my DELL desktop with Vista, I yet have to have any problems with it.

As to it messing your system up & requiring several re-installs. Have you people never heard of 'Acronis True Image'/'Ghost' etc..

You could even use a registry backup program such as 'WinRescue'. I really don't understand why you people are having problems with this program.

I do wonder if most f the programs on this site are even tried but just commented on from whatever comes out of a persons head. This is a good FREE cleaner. However it does requires a brain to do the initial Set-Up/Options. I will be installing it on my 3 lappy's later today, I don't expect any problems.
carlvui reviewed v2.0.111095.7 on Oct 20, 2009
Reaches very far and deep into your OS. Takes control over most Windows settings. Be sure to make HD image and total backup before installing this software.
Maybe better not to approach this one at all.
Zoroaster reviewed v2.0.111095.7 on Sep 22, 2009
"100% safe cleaning". How dare they say that?! There are a number of settings which, if enabled or disabled, may render the computer KO. It happened to me, but fortunately I had a ghost copy of my system HD ...
This application is dangerous because it allows numerous tweaks with a total lack of explanation, contrarily i.e to X-Setup.
Unless the user be aware, I totally advise against the use of this software: be aware !!!
Sammo reviewed v2.0.110158.6 on Sep 17, 2009
Totally destroyed my system. It took several system restores and software re-installs to get it back to normal. This was even after carefully following the use of this program. This never happened with any other cleaner program. Just stay away.
CyberDoc999 reviewed v2.0.107697.4 on Aug 28, 2009
Comodo is the worst program ever made