File Details

File Size
3.2 MB
License
Freeware
Operating System
Windows 2000/XP
Date Added
August 16, 2006
Total Downloads
20,303
Publisher
The CoolMon Project
Homepage
CoolMon
Publisher's Description
CoolMon displays vital system information in a small configurable window. Most of the application's data is retrieved from the Windows performance counters. It is able to display Processor usage, Number of Processes, Number of Threads, Used page file/Total page file, Used RAM/Total RAM, Computer Uptime, Date & Time, Computer name, All IP addresses, Network read and write speed, and Motherboard Monitor temperatures. It can do this locally as well a remotely over a LAN or the Internet.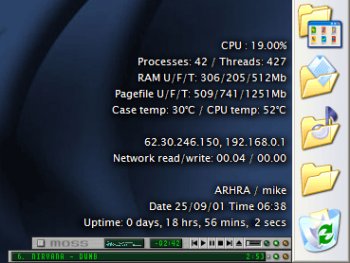 View Full-size
Latest Reviews
anomoly reviewed v2 Build 0.7.2.0 on Jul 10, 2006
Original CoolMon v1 works better.
This one is a joke. You give it free access to download so it will install(?)& then there are no options to configure it at all. As in download & install a plugin-duhh
You have to go to the website to get more plugins & then they give you examples in languages other than english.
After it jerked me around so it would install I had to forcibly restart it as it hung on an initial startup. waste of time
terracesider reviewed v2 Build 0.5.6.1 on Dec 19, 2005
It wouldn't work properly because of installation problems. Fair enough but instead of uninstalling it only deactivates itself and the rubbish has to be removed manually.
sjc001 reviewed v2 Build 0.4.1.0 on Feb 19, 2004
It says 'InitConfig.cml could not be found" and just stops and unloads.
Dirk van Hoofen reviewed v1.0 Final on Aug 13, 2003
Under WINDOWS NT it works not - protection faulds.
Boris_yelker reviewed v1.0 Release Candidate 2 on Jun 24, 2003
could use a bit more options, a bit limited on that...for example, date change, multicolor text, etc - just fun things...i noticed a bug/issue: i clicked 'show desktop' when running 1 ie window on xp sp 1, but when i opened it back up to full screen i had cool mon rite over my window!...not a big issue, still a great program, smooth, fast, and love the installer (get that?, samarize?)
Pr0peLLer reviewed v1.0 Release Candidate 2 on Apr 26, 2003
very good tool!

love it, tryed much of them, this is best
ghammer reviewed v1.0 Release Candidate 2 on Apr 26, 2003
Works ok for what it monitors.
Try TaskInfo 2003 for more info than you'll know what to do with. TaskInfo is an excellent tool for monitoring and controlling what is happening with your system.
http://www.iarsn.com/taskinfo.html
Gweedo reviewed v1.0 Release Candidate 2 on Apr 25, 2003
It's awesome! Nuff said.
jpk311 reviewed v1.0 Release Candidate 1 on Apr 3, 2003
5/5 is an under-statement. :)
ComradeF reviewed v0.99 on Dec 24, 2002
NOTE: It's inappropriate to rate a program like that. You didn't even get to see its features, etc.

I, on the other hand, do get to see its features. I've been using CoolMon for a while now, and I love it. Very customizeable, accurate, and aesthetically pleasing (if you set it the way you want it). I'd recommend it to anyone looking for a cool new gizmo.