File Details

File Size
37.7 MB
License
Freeware
Operating System
Windows 7/Server 2008/Vista/XP
Date Added
August 29, 2013
Total Downloads
8,897
Publisher
chromeplus.org
Homepage
CoolNovo
Publisher's Description
CoolNovo has all the functionalities that Google Chrome has. More, ChromePlus added some useful features such as Mouse gesture, Super drag, IE tab, etc. Meanwhile, it is free with no function limitation and you can use ChromePlus to surf the internet in any case.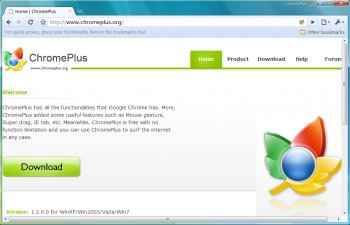 View Full-size
Latest Reviews
chrispaul reviewed v2.0.9.20 on Feb 17, 2014
meh
allthebestnamesgone reviewed v2.0.9.16 Beta on Aug 1, 2013
i had problems with this one after it switched name etc and would recommend srware iron instead
http://www.srware.net/en...rware_iron_download.php
Music4Ever reviewed v2.0.3.50 Beta on Aug 15, 2012
Even worse than the standard Chrome browser ~

chicgoods541 is a spammer from China flogging nasty fake items & should be banned ~
HeilNizar reviewed v2.0.3.50 Beta on Aug 14, 2012
@Aegis69,
I second that :D
Aegis69 reviewed v2.0.3.50 Beta on Aug 14, 2012
we are officially out of names for software
betasun reviewed v2.0.2.26 on May 25, 2012
A fine Chrome-based browser .many additional features .
Sammo reviewed v1.6.4.28 on Dec 1, 2011
Well, this browser has officially gone to crap. First of all the main reason for using it instead of Chrome was the tabs features of being able to open bookmarks into a new tab, which ChromePlus no longer does. To make matters worse I no longer have any of my plugins or settings. As of today I have gone back to Firefox.
Bala7 reviewed v1.6.3.0 on Sep 1, 2011
Based on Chrome ver.12.0.742.122.
Somewhat older base yet a very good browser.
rstat1 reviewed v1.6.3.0 Alpha 1 on Jul 27, 2011
The real version of chrome is soo much better.
sweathog reviewed v1.6.2.0 on Jun 15, 2011
I'm starting to like this browser. Much better than SRWare. It's what regular "Chrome" should have been, i.e. without all the privacy invasion and unnecessary files and folders littering the user directory.