File Details

File Size
2.1 MB
License
Shareware
Operating System
Windows 7/8/10/Vista/XP
Date Added
March 21, 2019
Total Downloads
44,423
Publisher
Corel Corp.
Homepage
CorelDRAW Graphics Suite
Publisher's Description
CorelDRAW Graphics Suite lets you tackle creative graphics and design projects with confidence. Precision tools, market-leading file compatibility and high-quality content help you turn your creative ideas into professional results: from distinctive logos and signs, to striking marketing materials and eye-catching web graphics.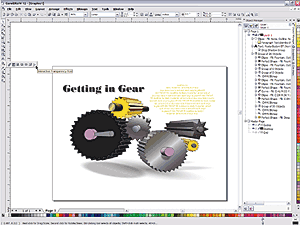 View Full-size
Latest Reviews
gerry_g reviewed vX5 15.2.0.695 Hot Fix 4 on Oct 25, 2011
X5 SP3 Used mostly for photo work.

Super bang for buck, you get many applications, not just Draw or Photopaint.

Of real usefulness is a very smart right click context menu. One very seldom has to use the ugly keyboard + mouse combinations in other products! Smart human engineering. Runs fine on my fast desktop and modest laptop.
jakartatech reviewed v15.2.0.686 SP3 on May 27, 2011
Still the best in the Garment/Fashion Industry....
tickleonthetum reviewed v15.0.0.486 on Mar 1, 2010
I have been using the Home (and Essential) Editions of CorelDraw for years and love it. I find it easy to use, yet powerful. I used it to design my new Overclocked PC!

There is going to be a much cheaper Home & Student Edition released soon and I'll be getting that straight away!
some guy reviewed v15.0.0.486 on Mar 1, 2010
the only good rating you will see here will be by the developers
zridling reviewed v14 on May 15, 2008
oh.my.gawd. You need a new HD and an 8-core to run this frankenstein. Fortunately, freeware and open source graphics apps have made this 'suite' as useful as MS Office 07 and MS-OOXML.
Cris3 reviewed v14 on May 15, 2008
At this price, why wouldn't you just get Adobe Illustrator and use the industry's standard in graphics software?
mackley reviewed v14 on May 15, 2008
Very ugly graphic suite. Not professional.
SteveJohnSteele reviewed vX3 Service Pack 1 on Jul 21, 2006
I also have been using Corel for many many years - since version 3 I think

So what peice of software that does this much doesnt have bugs?!

Ive been using X3 for some time now - it appears stable - not crashed or locked up on me yet! - not that I have any reason to think it will!

Ive tried Illustrator, which seems to be very none standard in the way it does node editing, compared to just about any other vector program Ive used - but maybe its just me(!)

After all Im 41 years old and have been using Corel off and on for 20 or so years - so what do I know.

:-)
AlexBR1974 reviewed vX3 Service Pack 1 on Jul 21, 2006
Simply the best!
Illustrator sucks!
ssb reviewed vX3 on Apr 20, 2006
Sorry but I have to disagree with previous reviewers. I've been a CorelDraw user since it was first introduced to Windows (v2), using it professionally on daily basis.

Back then, CD was the number one graphics application but they've lost all their customers simply because, CorelDraw isn't simply an application but a shiny bug collection.

Each CorelDraw version, introduced countless new bugs and incompatibilities with OS and other applications and v13 (X) isn't an exception. A simple visit to Corel's newsgroups will proove that.

I can easily talk for hours about Corel's issues but isn't necessary anymore. Corel did the best they could to loose market and don't need my help for that.

I rate it with 1 because there is no 0 or less.