File Details

File Size
3.0 MB
License
Freeware
Operating System
Windows (All)
Date Added
March 14, 2012
Total Downloads
5,202
Publisher
Cubic Reality Software
Homepage
CubicExplorer
Publisher's Description
CubicExplorer is a file manager/browser software. It's designed to be easy to use yet powerful to handle multiple directories at the same time. It uses tabbed browsing and bookmarks. It also has a build-in text editor which has highlighters for many different file types.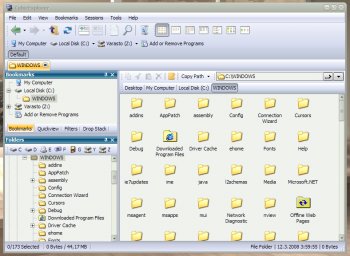 View Full-size
Latest Reviews
bobad reviewed v0.95.0.1424 on Nov 22, 2011
Very nice free explorer. Does everything I need so far. I've been disappointed by Q-Dir (tiny icons and refreshing problems) and Explorer++ (instability). This one has not disappointed me so far. Hope the Dev keeps it going, it could just a tad more improvements.

Just found a bug, or perhaps a bad feature:

The context menu does not show a complete list, eg. "Open with 7zip", "Scan with MalwareBytes", etc. It's a deal killer. The Dev. really should offer an X64 version.
espyder reviewed v0.90 Beta 2 on Sep 27, 2008
No Undo = Useless
The MAZZTer reviewed v0.90 Beta 2 on Mar 24, 2008
Very nice start. This is one of the few file managers that actually implements shell folders and shell items... which I consider crucial to any Explorer clone.

I only have one or two gripes (text editor isn't integrated enough) and I can't wait for new versions.
darthbeads reviewed v0.90 Beta 2 on Mar 24, 2008
While I am not prepared to give up XYplorer (http://fileforum.betanew...l/XYplorer/1011575143/1) just yet, I have to say that this is a fairly impressive little file manager. While not as robust as some of the others on the market (XYplorer, xplorer2, Total Commander and the massive Directory Opus, to name a few), it also certainly can't be accued of being "bloated."

I particularly like the breadcrumb interface, and the nesting of controlbars within the file tab.
jcr2 reviewed v0.90 Alpha 1 on Mar 17, 2008
Total commander ! The best !
guti reviewed v0.80 RC1a on Apr 3, 2007
Very nice freeware alternative, but SpeedCommander sounds a lot better.
Don Juan reviewed v0.77.587 on Mar 30, 2006
Very nice file manager with a few exceptions. When the system is under any relatively high load, this program's responsiveness becomes very poor. Shift+Delete doesn't work for bypassing the recycle bin. Those are my only two big gripes, aside from that it could just use several tweaks to the UI, mainly the way the bookmarks pane works.
anomoly reviewed v0.77.587 on Mar 27, 2006
what ? the ftp version of windows explorer ?. I much prefer list view in a classic pane than use an explorer window EVER. I could easily have 2, 3, or more folders open & tiled without needing this whatsoever. I use Directory Opus anyways.
bobad reviewed v0.77.587 on Mar 27, 2006
The program is coming along nicely.

My main wish is that the tabs could be made semi-permanent, or "lockable" When clicking folders, the tabs change like crazy. Why even have tabs if that's the way they are going to work? It's just as easy to use the folder tree like Windows Explorer as to use tabs that can't be locked.
Steinsk73 reviewed v0.77.560 on Mar 14, 2006
Forgie wrote.
"displaying sizes of subdirs is actually done pretty well in xplorer2, but it's only available in the paid version and I dont know about you, but I like free stuff! It's not a show stopper if it never comes to this app, but I can dream can't I?"

You can do this in CubicExplorer. You will not get a graphical presentation, but you can see the size of any folder (with subfolders). What you have to do is to download and install a small, free program called Folder Size. You can easily toggle it's function on and off, so there is no need to worry about CE becoming slow. How to use and install is described in detail in the latest Help file for CE (downloadable from homepage).

Cramy wrote:
"And finally...it'd be great if we could select additional locations/icons for the drives toolbar, rather than needing a bulky bookmarks panel. Think Firefox, not Opera. ;)"

But, unless I misunderstand - this can be done! You can move the Drive toolbar to anywhere, and you can decide yourself (right click) which icons it should contain (external HDs, network places, My documents...)

In my opinion, CE is just getting better and better. With a new Bookmak toolbar and menu, it is even more easy to use, and the QuickView has been improved. Excellent. And; a major update is ahaed in 0.78 :)