File Details

File Size
1.2 MB
License
Shareware
Operating System
Windows 2000/9x/Server 2003/XP
Date Added
October 26, 2006
Total Downloads
50,947
Publisher
Fengtao Software Inc.
Homepage
DVD Region+CSS Free
Other Versions
Publisher's Description
DVD Region+CSS Free is an unique, effective DVD tweaking tool. It allows you to watch all region DVDs on any DVD drive even if it has been locked. You don't need flash firmware which is sometimes dangerous, useless, or unavailable. It also disables region check for popular software-based DVD players such as PowerDVD, WinDVD, and CinePlayer. Other features include Region-Free for RCE DVDs, Macrovision-Free, Operation-Free, and run self at DVD players startup automatically.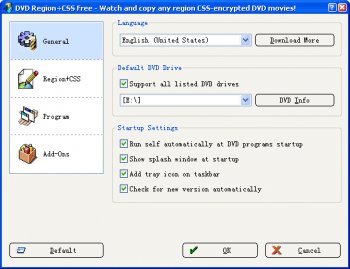 View Full-size
Latest Reviews
Ryusennin reviewed v5.9.8.5 on Aug 6, 2007
So the people complaining about CSS Free being shareware are the same dudes who wet their pants about AnyDVD. Go figure. I've been using DVD Idle Pro (DVD Idle + CSS Free) for years and never had a single problem. Does what it says, no fuss no muss.
[deXter] reviewed v5.9.8.5 on Oct 27, 2006
Not worth the price for the low features. There are better programs out their that have more features, stability and give more than a bang for your buck.
UTAKER reviewed v5.9.7.6 on Apr 20, 2006
laopa, don't you think it's a problem with your anti malware something than the this thing?
laopa reviewed v5.9.7.6 on Apr 20, 2006
Downloaded the trial a couple of days ago. Seems to be Ok up until now. One issue that has arisen is that my Ewido Anti-Malware 3.5 Security program does not like what it has identified as a Trojan (Trojan.Agent.sk) which seems to be part of the trial version at least.
Greetings to all!

Been using DVD-RF since it was in 1.5 range. Sorry I can't remember the exact version I started with. Using it on a Compaq EVO D-310 with XP Home. It works on everything I've tried - WinDVD 4 & 6, MS Media Player 8 & 9 and the Interauctual Player. Everything was perfect! Not writing this review on my home system, so I can't remember the exact name of my DVD-ROM drive "HL-DT-ST"?? or some other gouping of 6 letters?? Just can't remember right now. What I do know is that this program royally kicks ass. I installed it and it worked perfectly with its default settings.

I *did* notice that under DirectX8, WinDVD 4 was a little jumpy when playing discs mastered in the European PAL format. However, that vanished when I installed XP Service Pack 2 - DirectX9 is an intregral part of SP2.

All boiled down - Fengtao's software kicks ass. Learn it, live it and love it - preiod.
editdsn reviewed v5.56 on Oct 20, 2004
didnt work nearly as good as it claimed. many apps still couldnt decode the dvd. i tried AnyDVD but that one just froze my comp every time. I use DVD X Ghost now, works perfectly.
this one gets thumbs down.
darkpepe reviewed v5.10 on Jul 6, 2004
No way I spend money for things I can get for free!

Get DVD43, there are fake trial versions around, get the original!
Real site: http://www.afterdawn.com
Gripweed reviewed v5.02 on Jun 15, 2004
Funny, I found just the opposite when I tested DVD Region-free and AnyDVD. DVD-RF worked every time and AnyDVD didn't. Granted that was a while ago but still the fact is that DVD-RF has never let me down. I can't imagine something else working 10 times better when what I use works perfectly. I'm interested in how you came up with this 10 times measurement.
protowall reviewed v5.0 on Jun 10, 2004
Why not use AnyDVD? 10 times better than this program.
oomingmak reviewed v3.33 on Feb 29, 2004
QUOTE: "Why does every developer think his prog deserves to be in the small task bar?" I agree!! Developer abuse of the System Notification Area (aka System Tray) is rife. There is absolutely no excuse for not providing a means of removing tray icons (although many apps - this one included - should have never had a tray icon in the first place).