File Details

File Size
49.2 MB
License
Open Source
Operating System
Linux
Date Added
September 26, 2012
Total Downloads
58,308
Publisher
John Andrews
Homepage
Damn Small Linux
Publisher's Description
Damn Small Linux (DSL) is a very versatile 50MB mini desktop oriented Linux distribution. It includes a fully automated remote and local application installation system and a very versatile backup and restore system which may be used with any writable media including a hard drive, a floppy drive, or a USB device.
It has a nearly complete desktop, and many command line tools. All applications are chosen with functionality, size and speed in mind. It includes XMMS (MP3, CD Music, and MPEG), FTP client, Dillo web browser, links web browser, FireFox, spreadsheet, Sylpheed email, spellcheck (US English), a word-processor (FLwriter), three editors (Beaver, Vim, and Nano [Pico clone]), graphics editing and viewing (Xpaint, and xzgv), Xpdf (PDF Viewer), emelFM (file manager), Naim (AIM, ICQ, IRC), VNCviwer, Rdesktop, SSH/SCP server and client, DHCP client, PPP, PPPoE (ADSL), a web server, calculator, generic and GhostScript printer support, NFS, Fluxbox window manager, games, system monitoring apps, a host of command line tools, USB support, and pcmcia support, some wireless support.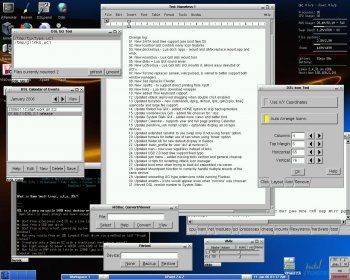 View Full-size
Latest Reviews
sugianto reviewed v4.4.10 on Jul 29, 2012
try
It still uses a very outdated kernel which doesn't boot on some newer hardware configurations.
iamnotyou reviewed v4.4.6 on Oct 9, 2008
I have an old Micron 133 mhz laptop that runs DSL quite nicely. I would install a different/bigger distro 'o Linux on a newer/bigger computer but I hate to part with the old Micron. DSL works well on such a small hard drive and under powered CPU.

Recommended!
some guy reviewed v4.4.6 on Sep 18, 2008
now I have a use for that 128 meg hard drive. Works nice on a flash drive to but they need a new host this ones to slow.
Avion Airplane reviewed v4.4.5 on Sep 4, 2008
I like it !

but firefox would not autodetect my LAN on my Abit motherboard. Worked fine on an old Intel mainboard tho...
Alpha258 reviewed v4.4.4 on Aug 12, 2008
Neat little tool/toy but it is really not able to be used as an OS.
ModderXManiac reviewed v4.4.3 on Jul 9, 2008
Fat chance SELonBN about Firefox 3, its much larger than Firefox 2, but this guy has plenty of compression tricks up his sleeve I'm sure.

Excellent distro, I've been following the project since version .4, and it never ceases to amaze me how much potential the developer puts in a 50 meg iso.
SELonBN reviewed v4.4.2 on Jun 24, 2008
I also hope FF3 makes it in MUCH quicker than FF2 did. This is a great little distro for certain tasks. The boxed browser approach reidyn mentioned is a great example. I use it on an old Compaq Evo nc600 laptop w/512MB RAM to loop an mp3 collection to the Music on Hold port on the phone switch where I work. I bet I haven't even opened the latch and looked at that screen in over 6 months. Perfect!
reidyn reviewed v4.4.1 on Jun 19, 2008
Let me offer another good use for this, aside from keeping it small enough to install on a business card sized CD (for wallet or s*** pocket, hence 50MB limit) or tiny memory stick. I use it in a VM inside Windows (runs great in the free VirtualBox) for totally sandboxed web browsing.

The fact that the VM software itself adds relatively little overhead means that this whole distro plus its stripped Firefox 2.0 can run on my 1GB XP system alongside my other apps and only take less than 100MB, which is far less than any other distro and right at what FF2 for Windows ordinarily takes on its own. Add VirtualBox's seamless window mode, and I have a totally sandboxed browser right alongside my other stuff. For casual browsing (or venturing into the dark alleys of the web) you can't do much better for protecting your system. Presumably, you're doing banking or other commerce on that same system, and fewer ways for the bad guys to compromise your system is good. Doing that with such low overhead is even better.

I'm knocking one point ONLY because they're slow about getting the latest browsers stripped and rolled into the works. FF2 was JUST added as a replacement for FF1, and this is right when the more memory efficient FF3 is available. I do understand that FF3 wasn't final while this DamSmall build was in the works, but: (1) The FF3 betas have been very stable since beta 3 or so, and (2) They JUST GOT FF2 in.... and that's a LONG FREAKING TIME since it came out.

I do NOT recommend this distro for your day to day use, but for keeping a fully working distro on a bootable mini-CD (or business card CD) or memory stick for personal use on other peoples' systems, or for running in a virtual machine, this can't really be beat. If it can, I'd love to hear about it.
Niksa reviewed v4.4.1 on Jun 18, 2008
DSL is perfect for what is intended. There is DLS-N if you want more functionality and add-ons, or other small Linux distros. For all preferring fancy stuff there is Ubuntu and similar distros. But I do agree that it shouldn't keep up to 50 MB limit if that is against functionality