File Details

File Size
2.7 MB
License
Freeware
Operating System
Windows 2000/9x/Server 2003/XP
Date Added
March 18, 2008
Total Downloads
33,353
Publisher
Astonsoft Co. Ltd.
Homepage
DeepBurner
Other Versions
Publisher's Description
DeepBurner is a CD/DVD burning software that utilizes power and effeciency. You can create data, bootable, and audio CDs as well as data DVDs. Friendly and intuitive user interface with drag-and-drop features helps in all aspects: starting from compilation of data and audio to be burn onto a CD/DVD till making and printing labels for the particular type of media storage.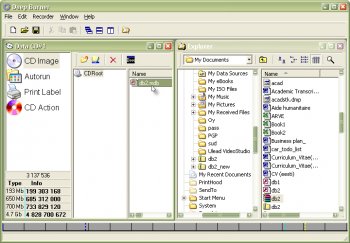 View Full-size
Latest Reviews
guti reviewed v1.9.0.228 on Mar 18, 2008
It was a very good free tool. Unfortunatelly between 1.8 and 1.9 it was sort of abandoned, in favour of their DVD burning software.

The promised version 2.0, gets delayed day after day. IMHO now, InfraRecorder is a much better alternative with a similar approach.
1uk3 reviewed v1.8.0.224 on Aug 10, 2006
It's very good at what is does. The interface isn't the best out there but then does that really matter?

Runs fine with Vista x64 Beta 2 Build 5472 so thats a bonus. :)
roj reviewed v1.8.0.224 on Mar 24, 2006
Still useless for audio CDs until version 2.x where the burning engine is completely rewritten. That's straight from the author. Do not dis a reviewer if you have no clue about the facts.

THREE stars for a good program with a critical flaw that is being addressed in the longer term.
khalid2005 reviewed v1.8.0.224 on Mar 24, 2006
Do not rate if you are not qualified.
roj reviewed v1.7.1.123 on Jan 29, 2006
Useless for audio - cannot burn gapless. Promises to fix this have extended over two years now.

ONE star.
SuperVegeta reviewed v1.7.1.123 on Nov 12, 2005
Good program, but poor italian translation.
LeXTeRiTY_X reviewed v1.7.1.123 on Oct 25, 2005
The best burning tool in the freeware category, although now I've grown to use Roxio's RecordNow! over the Nero suite for commercial programs.
uberfly reviewed v1.7.1.123 on Oct 25, 2005
citizen420 - thanks for gracing us all with your outstanding logic... Very nice for free. My mother uses it for basic burning. It's solid and very usable.
citizen420 reviewed v1.7.1.123 on Oct 25, 2005
good software, but lacking some features and it still dosent beat my free version of nero 6 ultra edition. but thats just me, all comercial programs are considered freeware by me
photonboy reviewed v1.7.0.280 on Oct 13, 2005
You can only compare this product to other free programs. There aren't that many good free burning programs.
Nero is a great program, but if you only need the features found in this program then why pay for something you don't use.
(Nero 7 is shaping up to be pretty amazing)