File Details

File Size
14.4 MB
License
Shareware, $12.95
Operating System
Windows 7/8/10/Vista/XP
Date Added
May 26, 2020
Total Downloads
11,703
Publisher
Superfox Studio
Homepage
DirectX Happy Uninstall
Publisher's Description
DirectX Happy Uninstall (DHU) is a powerful management & maintenance tools for Microsoft DirectX. With DHU, you can backup your PC's DirectX and restore DirectX from this backup. In addition, using the DHU's Disc-Rollback Feature is the most exciting thing, you can fix all the DirectX problems via it.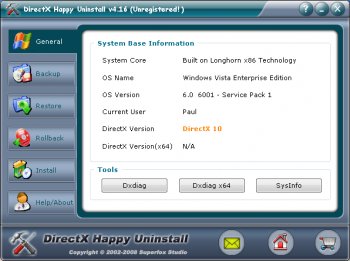 View Full-size
Latest Reviews
CyberDoc999 reviewed v6.5 on Jan 27, 2016
on what OS would you do this NONE
There's nothing happy about this utility, it should be called "Unhappy moronic DirectX uninstall".
Ryusennin reviewed v5.18 on Mar 19, 2011
You might as well uninstall Windows completely -- you will get the same result and it won't cost you a dime.
war593122 reviewed v5.18 on Mar 17, 2011
Stupid name, cost money.

Website is hosted on spyware server. Same as winavm.com.

See: http://www.siteadvisor.com/sites/www.winavm.com
SineWave reviewed v5.18 on Mar 17, 2011
There's something called sfc /scannow that keeps your stupid Windows more stabile... however this is a good idea. minus many stars for being shareware.
DirectX is an integral part of Windows.

Uninstalling it makes no sense.
Morningdove reviewed v4.18 on Jan 19, 2009
I have been installing and upgrading DirectX since it's conception. I have never had a situation where I had to either uninstall or repair DirectX.

This is a program, that if purchased, will probably never be used. I do admit though, it has a pretty GUI.
horsecharles reviewed v4.18 on Jan 14, 2009
What useless, moronic, uninformed, negative reviews:

Description
DirectX Happy Uninstall(DHU) is a powerful management tool for Microsoft DirectX. Using DHU, you can BACKUP, RESTORE, DISC-ROLLBACK, and FULL INSTALL DirectX. A correct DirectX is necessary in your computer.

1. Sometimes a damaged DirectX cannot be repaired without removing entirely first.

2. Ditto for rolling back to previous DirectX version / uninstalling upgrade / cleaning up after a messy update / etc.

Above can and has held true for various MS / Windows components over the years...esp. those with no uninstall option and/or that do not completely remove everything even when offering uninstall.

This is proven by the bountiful proliferation and success of products like DirectX remover, ieradicator, litepc, vlite, dial-a-fix, etc.

Att. Prospective Flamers-- notice i say "sometimes".

Yeah, MOTO's... if you remove IE you can't browse, if you remove Windows you can't compute...

A freeware alternative to this has existed for years now... although it hasn't been updated for a long time...
NightFright reviewed v4.17 on Dec 22, 2008
If anything can be criticised regarding this program, then it's its title. Should be named "DirectX *DEADLY* Uninstall". Other than that, it does what it says, no doubt about it. People who do not know Windows needs DirectX to work almost deserve what happens after using this. ;)
RastaWorld reviewed v4.1 on Apr 22, 2008
Nope, no reason to. If you need to remove DX, most likely you need a new pc.