File Details

File Size
71.5 MB
License
Shareware, $39.95
Operating System
Windows 7/8
Date Added
June 20, 2019
Total Downloads
25,022
Publisher
Executive Software
Homepage
Diskeeper
Publisher's Description
Diskeeper with DRAM caching guarantees to fix worst performing physical servers or PCs with faster than new performance. Instead of defragging, Diskeeper 16's newest patented engine ensures large, clean contiguous writes from Windows so fragmentation is no longer an issue for HDDs or SSDs. This eliminates the "death by a thousand cuts" scenario of small, tiny writes that inflates I/Os per second, robs throughput, and shortens the lifespan of HDDs and SSDs alike. Diskeeper 16 electrifies Windows system performance to operate faster than new with the addition of dynamic memory caching - using idle DRAM to serve hot reads without creating an issue of memory starvation or resource contention.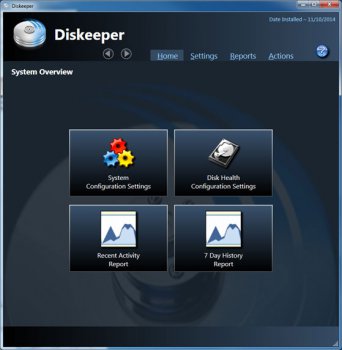 View Full-size
Latest Reviews
Plumber reviewed v14.0 Build 909-t on Jan 20, 2011
The only thing more corrupt than the code that went into this thing is my hard drive after running it. I'll stick with mst Defrag. It's far cheaper, and it works great. And as far as I know, the author isn't a proselytizing religious nut.
J_s_u reviewed v14.0 Build 909-t on Oct 27, 2010
Reviewing Diskeeper 2010 Premier Pro v14.0.909.0 on Windows XP SP3 (32bit/x86)

I've been a user of mstDefrag for the last 3-4 years and have also used O&O Professional, PerfectDisk, myDefrag, UltraDefrag, and Defraggler but I think this is the best.

Advantages:
1. The automatic defrag and proactive defrag prevention actually work (unlike other programs that claim to do it) set it and forget it.
2. Ability to defrag Windows system files, boot files, and Hard Disk MFT.
3. Quite fast at a full manual defrag compared to others I have used.
4. Lots of options, features, and config settings.
5. Noticeable increase in system performance.

Disadvantages:
1. Bloated GUI.
2. Memory usage on the Diskeeper Service (DkService.exe) [which facilitates the automatic defrag etc] is 52,000k+ regardless of whether program is running or not. The program itself (mmc.exe) takes around 16,000k when running.
3. The "Volume Health and Recommendations" are well off the mark, and overly sensitive.
4. Troublesome to activate.

I am not an expert by any means, just thought I would share my thoughts.
trynow reviewed v14.0 Build 903-t on Sep 8, 2010
Super
Bridget reviewed v14.0 Build 903-t on May 28, 2010
Diskeeper is running a special for $10 off Diskeeper 2010 Professional edition for Memorial Day. With this release they are taking a proactive approach by preventing the fragmentation up front. Great product. http://bit.ly/ayd2e0
Artem S. Tashkinov reviewed v14.0 Build 898t on Dec 30, 2009
Bloated, overpriced, intrusive piece of junk.
Cris3 reviewed v14.0.896 on Nov 24, 2009
They hit a home run with this 2010 version. The home version works great unless you need the pro version for a business. Integrates well with Windows 7. It actually reduced my boot-up time by almost a minute.
jtsnow reviewed v13.0.844 on Jul 8, 2009
I've used Diskeeper professional 2009 since its release last year, and it's one of the best performing and most trouble-free utilities I have on my system. It's unintrusive, doesn't conflict with any other application and simply does a fantastic job of keeping the drives tidy. Highly recommended.
Second Shadow reviewed v13.0.844 on Jun 3, 2009
Thanks to jahamaville for the heads up.
This should be called the Scientology Defrag. No thanks, keep your religion out of your company and out of my HDD
Maestro reviewed v13.0.835-t on Mar 5, 2009
For weya1b0:

if still interesting in 0xC0000043 solution, make this steps:
1.Disable Antivirus self defense
2.Find key in regstry

[HKEY_LOCAL_MACHINE\SYSTEM\ControlSet001\Services\KLIF]
"Start"=dword:00000001

change to "Start"=dword:00000003

3. Set Diskeeper to Boot-time defrag
4. Restart PC
5. Boot-time started normaly, phase 3 iniatialised, defragmentation work.
6. After defrag, set registry back to "Start"=dword:00000001.
7.Restart PC, enable antivirus self defense.
jahamaville reviewed v13.0.835-t on Dec 26, 2008
This is not a product review, but rather a review on the company.

Recently, Diskeeper has been accused of forcing their employees to either take part in Scientology training, or be laid off. Regardless if it's Scientology, Christianity, Buddhism, or any other belief, this is discrimination and is not acceptable from any corporation.

http://www.google.com/ne...cientology&ie=UTF-8