File Details

File Size
1.7 MB
License
Freeware
Operating System
Windows 2000/9x/Server 2003/XP
Date Added
March 18, 2007
Total Downloads
5,195
Publisher
TechnoJoly
Homepage
DualXplorer
Publisher's Description
DualXplorer is a file manager with 2 lists for file operations, preview & editing of files, network operations, FTP client & server, compression tools, hex editor, and file & directory syncronization.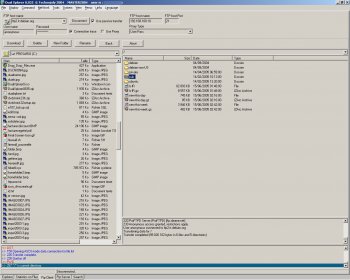 View Full-size
Latest Reviews
keir reviewed v0.866 on Apr 19, 2007
I use freecommander, it's the best for me but it ain't perfect, it hangs on me sometimes and hasn't had an update for a while.
ModderXManiac reviewed v0.866 on Apr 18, 2007
You people must realize that you're recommending shareware programs that are a rediculous $30+, that really aren't worth it when there's FreeCommander.
http://www.freecommander.com/

Certainly does the job better than this, has a nice interface much like the OS/2 file manager.
iwintaz reviewed v0.866 on Apr 18, 2007
Has anyone heard of Total Commander, Directory Opus, xplorer2 etc?
Why to write a similar program that is so inferior to existing file managers in every way?
jasperlotus reviewed v0.864 on Jan 25, 2007
It seem DualXplorer doesn't support Unicode! This not good when run in Windows XP!
brainwashed reviewed v0.864 on Oct 10, 2006
Overall a nice, slim, fast piece of software.
Few niggles: still fome french in the english config, popups don't centre on the client so don't work well on dual monitor setup, and I'd rather a folders favorites rather then me IE favorites (similar to PowerDesk).
technojoly reviewed v0.864 on Oct 6, 2006
hi

i can send the resource language file to any one, and when you will have translate all sentences, i will compile DualXplorer with your language add-on

you can use Forum on technojoly.net (http://technojoly.net/forum_viewforum.php?14)to post your bugs-report or ask for help on use of DualXplorer.

I work on best quality with all users reports and new release are available often.
tannenwheel reviewed v0.864 on Oct 5, 2006
unfortunately the menu displays with grey font (as correctly inherited from my OS colorsheme) on grey background (which seems to be hardcoded in the program - but it should inherit rgb50/50/100 from my colorsheme)

despite that it seems to be good for what it is meant to be... (sort of a pocket knife)
anomoly reviewed v0.864 on Oct 4, 2006
I like it a lot. It is fast has no install & seems quite overly functional.
Albeit; I have been using freecommander which is easier to configure & use but just doesn't try to do EVERYTHING which I appreciate.
It's not "uninstall windows", it's 'uninstall window' which makes perfect sense. "Uninstall" works for me

Oh and apparently you only get 2 languages french & this one. What's with the "plasmatech shell evaluation"? I hope it only happens the one time.
Excellent standalone executable anyways!
DatabaseBen reviewed v0.864 on Oct 4, 2006
as a beta from http://technojoly.net/download.php?view.19 i give it a 5.

it is clean and sleek. i havn't used all the funtions/options yet, but when i browsed to most of them i got no errors.

the only error i got was for bios info as nothing showed up.

i am weary of the enumeration option and not sure about clicking on it.

and the unistall windows should be renamed to uninstall programs

-otherwise so far a GOOD JOB!
technojoly reviewed v0.835 Beta on Jun 22, 2005
i have posted a new version "DualXplorer0.836"
i have fixed the "froze" problem
http://technojoly.net/download.php?view.19

hi
to un-zip a file it is like to preview any type of file. you select your file and you press "F3" or click on magnifying glass icon then use new buttons on second panel. to quit preview press "F3" or click on magnifying glass icon
you can ask your question on technojoly forum (you need to become member [ S'inscrire ])
for those who have a freeze state for some seconds when dualxplorer start i will seek for problems and bring you new release as soon as is possible