Publisher's Description
EVEREST Ultimate Edition is an industry leading system diagnostics and benchmarking solution for enthusiasts PC users, based on the award-winning EVEREST Technology. During system optimizations and tweaking it provides essential system and overclock information, advanced hardware monitoring and diagnostics capabilities to check the effects of the applied settings. CPU, FPU and memory benchmarks are available to measure the actual system performance and compare it to previous states or other systems. Furthermore, complete software, operating system and security information makes EVEREST Ultimate Edition a comprehensive system diagnostics tool that offers a total of 100 pages of information about your PC.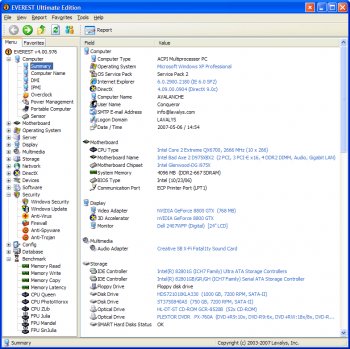 View Full-size
Latest Reviews
Input Overload reviewed v5.50.2253 Beta on Sep 12, 2010
It's very overpriced, there are freeware programs just as good but not as well laid out. A nice program but expensive for what it does. I would give it 4 stars if it were more reasonably priced, I don't mind buying good software but I don't like being robbed.

mike59 I notice you are from Andorra? Are all the people there as stupid & cretin like as you are? Or is it just you that's thick as a bag of hammers? No doubt your version of Everest is registered with a keygen.
Virtual_ManPL reviewed v5.50.2242 Beta on Aug 31, 2010
true...
but still, price is too high
FreeSpeech reviewed v5.50.2239 Beta on Aug 28, 2010
I tried Aida 32 for sheets and giggles :D
Doesn't detect new hardware. So it is useless unless you have a Pentium 4.
TwoTailedFox reviewed v5.50.2239 Beta on Aug 27, 2010
I use, and still have a copy of AIDA 3.93. I even used Everest when they bought it. Until they made it Ripoffware. Sites like Softpedia still have AIDA 32 for download. Find it. Download it. Use it.
mike59 reviewed v5.50.2216 Beta on Aug 3, 2010
Love this app! Great stuff!

Input overload would rather waste his money on scamware like JV 16 power tools!! LOL
Go clean your registry loser!
TC17 reviewed v5.50.2216 Beta on Aug 3, 2010
This program used to be freeware for a long time, now it has become ripoffware.
FreeSpeech reviewed v5.50.2143 Beta on May 18, 2010
Still the best! Works great with my new motherboard (Asus Crosshair Formula IV) and CPU (AMD Phenom II 1090T @4.2GHz) :D All you broke a s s noobs go away. Aww, you can afford $37.46 QQ Mommie won't buy it for you?
DudeBoyz reviewed v5.50.2136 Beta on May 10, 2010
Has the price on this program really jumped to $49.95 USD? If so, that makes it even less of a value, especially when you factor in the free alternatives that are out there.
Raton reviewed v5.50.2100 on Apr 7, 2010
I, too, used this program when it was freeware and known as AIDA32. I've got
no problem with somebody wanting to be paid for their efforts. But $30 is kind
of high when there's so many freeware programs extant which perform the same
function.

DR.
beelzebub360 reviewed v5.30.2068 Beta on Mar 27, 2010
Although there are free alternatives but still this is good ;)