File Details

File Size
20.6 MB
License
Shareware, $25.00
Operating System
Windows (All)
Date Added
May 10, 2022
Total Downloads
15,400
Publisher
DeskSoft
Homepage
EarthView
Publisher's Description
EarthView is a dynamic desktop wallpaper and screen saver, which displays beautiful views of the earth with daylight and night shadows. It produces colorful, high quality, high resolution images for every screen resolution - even beyond 2560x1600! The program supports map and globe views, urban areas, city lights, atmospheric effects, clouds, local time display and much more. EarthView supports different maps that show our planet earth in different ways, including seasonal changes of vegetation, snow cover and ocean ice. Many options allow total customization of all view parameters.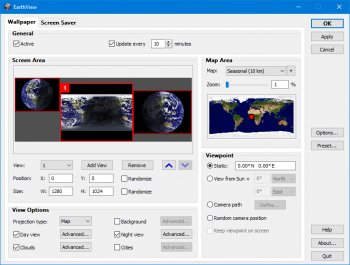 View Full-size
Latest Reviews
humbleuser reviewed v5.5.9 on Apr 21, 2016
Undesired: Desktopearth offers realtime world cloud cover in up to 4K resolution. With multiple monitors you can have individually cusomised views. It's brilliant.
emanresU deriseD reviewed v3.10.12 on Aug 3, 2009
Whenever you see "Fix: various small internal improvements and bug fixes", think "Blacklisted some more illicit serial numbers".

(No, I have never tried using an illicit serial number on EarthView. I wouldn't want it installed, free or otherwise.)
Ummm, imemine, point me to an example of free software that provides accurate, real-time cloud cover imagery. That's what DeskSoft charges for--not just pretty clouds, but actual, real-time cloud images. (I'm not saying it's worth the price or even particularly useful.)
imemine reviewed v3.8.5 on Jul 18, 2008
well its nice to have the earth as a wallpaper, to see the position of the sun if thats how you like to keep your daily schedule if you dont use a 'time clock' as much.
but what would make it worth the cost, would be if they stopped charging an additional monthly subscription to actually see realtime satellite clouds, and made it free like other desktop earth programs which offer the same quality cloud overlays.
of course the day google earth could be an interactive earth desktop with your choice of overlays, that will be nice....
shodan816 reviewed v3.6.6 on Jun 4, 2007
I must agree with 'vimes' It's nice, but practically worthless, making the $25 asking price far too excessive. $10 would be closer to reality of 'worth.'
Vimes reviewed v3.6.4 on Jan 21, 2007
It is good at what it does and whilst it offers no real practical value, for me anyway, it is still nice to look at. However I can't get my head around the cost of it, it is way too expensive for what it offers.
genu reviewed v3.6.3 on Jan 5, 2007
Google Earth and Windows virtual earth cannot be compared with this program. Those programs were made to be used in a productive manner. This is mainly a desktop enhancement. You can't see your house with this, because it wasnt made for that. This is generates quality screen saver images of the earth at different time zones. Can google earth do that? no because it wasnt made to do that.
Frasier.Crane reviewed v3.5.2 on Jul 28, 2006
Why are people comparing this to Google Earth and similar products? Just because it contains the word "Earth"?

These are totally different products and EarthView is not meant to be Google Earth. As I take it, EarthView is meant to provide beautiful changing pictures of our planet and I must say it does that pretty impressively!

The quality and the beauty of the created images is simply stunning and not comparable to any similar program I've seen.
BogdanSHA reviewed v3.3.4 on Nov 25, 2005
Breathtaking!
httpd.confused reviewed v3.3.3 on Nov 13, 2005
Yet another person who has no clue. This isn't just a screen saver. If you're going to whine, at least get your facts straight.

Besides, screen savers long ago evolved from the type of software that truly lived up to the genre name, to a wide variety of full-screen applications that can be invoked on demand (you know, when you ARE LOOKING AT IT).

If you just know, offhand and at all times, what the real-time cloud formations over Egypt look like, or even what the time is in China, then I'm impressed. How do you manage that?

I agree that it's not the most-useful application in the world, and is overpriced (like all of Desksoft's software). No, it's not Google Earth, but nor is it supposed to be. EarthView can be handy and interesting, particularly if you have contacts in a variety of areas around the globe, and have an interest in geography.