File Details

File Size
24.1 MB
License
Shareware, $49.95
Operating System
Windows 7/8/10/2000/Vista/XP
Date Added
July 1, 2020
Total Downloads
3,210
Publisher
Just Great Software Co. Ltd.
Homepage
EditPad Pro
Publisher's Description
EditPad Pro is a powerful and versatile text editor or word processor. Designed to make text editing as convenient as possible, using EditPad Pro to edit text files will save you a lot of time and frustration.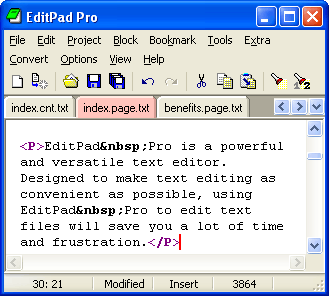 View Full-size
Latest Reviews
pjafrombbay reviewed v7.2.2 on Jan 7, 2013
I agree; its an ordinary run-of-the-mill text editor.

Try EmEditor - snippets (clip text) feature makes it very useful and much better and cheaper than UltraEdit.

Regards,
Peter
pjafrombbay reviewed v6.7.0 on Mar 17, 2011
Just an average text editor. Much better technically and economically are:

1. EditPlus - http://www.editplus.com/index.html
2. TwistPad - http://www.carthagosoft.net/

The clip library feature used by these two make them almost an IDE. Support for various language syntax is very strong in both.

***** for both.

Regards,
Peter
KCell reviewed v6.6.2 on Mar 28, 2010
EditPad Pro has the best RegEx support of any text editor. However, it doesn't support scripting, the way UltraEdit does. It also doesn't support user configured keyboard shortcuts, the way UltraEdit does. But the absolute *WORST* part of this software is that the developer does an *extremely* poor job of being responsive to his users. If his software doesn't do something well, or could do something better - you'd be lucky to get a reply to your email, let alone actually have the developer incorporate the improvements. I absolutely cannot stand developers who ignore the needs and requests of their users. If he doesn't care about his users, why should we care about him?
lzvk25 reviewed v6.4.2 on Aug 1, 2008
It is still a weak Text Editor, and more expensive that many competitors who are way better than this.
Stephen Bungert reviewed v6.4.2 on Aug 1, 2008
This text editor is the best there is. I've had no problems like the previous commentator with UTF-8. Maybe his settings are wrong.

The Find and replace not being in a seperate window is just a matter of personal taste. I love EPP Search and replace pane, it's annoying as hell when working with other programmes, to no longer see the S&R window when switching tabs. The S&R pane is one of the reasons why I started using EPP, I hate popup S&R windows.

The interface is easy to use, it's has very many features.

The syntax highlighting is great, the author even has special programmes for download that allow you to create your own schemes very easily, or edit existing ones, another programme lets you create File navigation schemes for helkpings ee the structure of a file (like a list of classes and functions in a php file, for example.)

All these can be shared online with other users, and you can download and update schems and structures directly through EPP. Even the snippets pane has this functionality, making very quick to get new snippets for the programming language you are using.

Give it a try.
tranglos reviewed v6.3.2 on Jan 5, 2008
A little slow to start up, a little too garish with the profusion of colors and icons (though the colors can be tamed).

Some basic options missing (e.g. strip trailing whitespace on save; place backups in a designated folder; minimize window when closing last open file, clicking in the gutter does not select line, etc).

So-so syntax highlighting (try EmEditor for ultimate power). The nicest-looking code folding I've seen.

A little off-putting self-promotion on the part of the author, and when I've already bought a program, I certainly don't want to see any "buy this too!" come-ons in the menu (Regex Buddy, get lost!).

Not too efficient with large files (30 MB+), but EmEditor is worse, especially with line wrapping on.

Poor macro design. Macros are stored in INI files, so technically they can be fine-tuned by hand, but just look at the structure and run away screaming. INI files are a truly awful choice for storing scripting sequences!

Fair Unicode and UTF-8 support, though for UTF-8 files it can either always add or never add the signature, which makes EditPad Pro useless for the kinds of files I work with (the editor should always respect the presence or absence of signature in existing files).

The worst thing about EditPad Pro: the find/replace UI. Now, as far as search functionality goes, it is absolutely the very best, it is awesome. Fantastic support for regular expressions, with syntax highlighting within regexes. I love the ability to fold results and show only matching lines. The problem is that instead of a dialog box, EditPad Pro uses a separate pane. This means a completely non-standard operation: to toggle regular expressions, you cannot press Alt+E (or Alt+X, or whatever), but must use a menu command. Even for incremental search, EditPad Pro opens the darn separate pane, from which you have to ESC - how silly is that? It's a totally different paradigm, nice for mousing around, but hopeless if you want fast keyboard access to all the features. The way it is, it's a usability nightmare to me.

(This, by the way, is symptomatic: PowerGrep by the same author is easily the most advanced GUI search application for Windows, and it is utterly unusable. The UI is so dense and cluttered, configuring one search takes ages, while I can achieve practically the same effect with a couple of keypresses in TotalCommander. Fantastic features packed into a UI horror pill.)

It needs many improvements but relatively small ones, nothing major (except for the macros, which should be re-implemented from scratch). Almost great, but due to the UTF-8 problem is sits unused on my machine.
vimmelskaft reviewed v6.3.1 on Aug 16, 2007
The best editor on the market. I have used it for many years and I am very satisfied with what it can do for me.
paul-white reviewed v5.4.4 on May 14, 2005
This editor probably has the best regular expression support that I have found in an editor of this type, the regex input is even colour coded so that you can check the syntax as you are typing it. However I will not buy this editor due to several design flaws that make the editor difficult to use on a screen with a 800x600 resolution. I just cannot take this editor seriously due to the style of language that is used on the website, in the help files and even in the program interface.
mikero reviewed v5.4.4 on Feb 15, 2005
Not too bad, but not as feature reach as free pspad (http://www.pspad.com/en/)
zridling reviewed v5.4.3 on Jan 28, 2005
A lack of progress has all but crippled this text editor as the developer has moved on to other projects. Consider instead UltraEdit or EmEditor.