File Details

File Size
4.8 MB
License
Freeware
Operating System
Windows (All)
Date Added
November 12, 2020
Total Downloads
55,842
Publisher
Andre Wiethoff
Homepage
Exact Audio Copy
Publisher's Description
Exact Audio Copy allows you to get audio tracks off a CD and save them to your hard drive. It uses the Windows ASPI Interface, so both SCSI and ATAPI CD-ROM drives are supported. It supports hidden sector synchronization and has a secure, fast and burst extraction method selectable. Fast extraction should get the same speed as other grabbers, but is probably not exact anymore. Burst mode just grabs the audio data without any synchronization. It allows you to output of time positions of all non-exact corrections and listen to these positions. You can also copy of ranges of music data, not only tracks. Automatic Speed reduction on errors and fallback afterwards ensures that your music will still sound decent. It uses the Windows Audio Compression Manager for direct compression to MP3 or WAV. It also supports external MP3, VQF, RA and AAC encoders for automatic compression after extraction. Filename editing is easy with local and remote CDDB database and CDPLAYER.INI support and more features like ID3 tagging.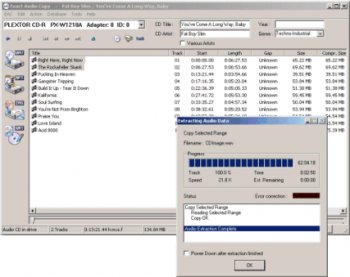 View Full-size
Latest Reviews
onestar reviewed v1.3 on Jan 25, 2017
Still the best CD ripping tool out there. One minor note: The latest version (1.3) isn't parsing ampersands and apostrophes correctl from the freedb. They're showing up as ' for apostrophes and & for ampersands.
Enlightenment reviewed v1.0 Beta 4 on Dec 19, 2014
I've been using it since 1998.

Not the most user friendly to setup, but worth it since it does the best ripping results.
dejavu reviewed v1.0 Beta 3 on Sep 22, 2011
Excellent!!! Five Stars!!!
anonswgeek reviewed v1.0 Beta 3 on Sep 22, 2011
good to see an update to this software. extraction speed seems to have improved in this version (at least for my cd drive).
tickleonthetum reviewed v1.0 Beta 1 on Dec 9, 2010
Been using for years now, going from strength to strength. Version 1.0 doesn't contain any malware...
ron_marz reviewed v1.0 Beta 1 on Dec 6, 2010
Great ripping quality as always, but the EAC 1.0 beta switched to a new database format which it fails to import all the titles from my old database -- a serious bug.
roj reviewed v0.99 Pre-Beta 5 on Jan 20, 2010
The installer contains malware.

No, I don't give a ratz azz about what the twits in the EAC forum say; the eBay adCrap is malware.

No, I don't care that it's optional.

It's MALWARE and should not be in an installer.

Get it the H - E - Double - Hockey - Sticks out of the installer or Betanews should remove it and BLACKLIST it.

I'm tired of this garbage masquerading as so9mething harmless and the stupid apologists defending or excusing it.

IT'S MALWARE.

ONE star.
iva reviewed v0.99 Pre-Beta 5 on Jul 3, 2009
Using this program seems to be a useful program but after ripping cd's to your hard drive in accurate rip is fine but what is needed is this program needs a cd burning capabilty so that it will burn these same files to cd. If this program had this it would rate highly but sadly it doesn't.
Fafner76 reviewed v0.99 Pre-Beta 5 on May 10, 2009
Used it a lot in the past, never used it in my new PC till today. Don't know what's wrong, but extraction speed is unbelievably slow for me although I'm using the very same settings I always used, doesn't even go past 2x where Easy CD-DA Extractor goes around 25x.
zollner reviewed v0.99 Pre-Beta 5 on May 10, 2009
Simply the best quality at any price.
A tiny bug: the extraction option "Create .m3u playlist on extraction" appears to be broken.