File Details

File Size
14.0 MB
License
Shareware, $39.95
Operating System
Windows (All)
Date Added
September 26, 2016
Total Downloads
7,177
Publisher
SolarWinds Worldwide, LLC
Homepage
FTP Voyager
Publisher's Description
FTP Voyager is a powerful FTP client for Windows with an intuitive drag-and-drop interface. It lets you update a Web site with a single click, transfer files directly between FTP servers, resume interrupted downloads, and perform advanced file searches while doing other FTP tasks. The FTP Site Profile Manager makes it easy for you to add your own FTP sites. You can also import your FTP sites from many other FTP applications for use in FTP Voyager. It supports secure connections using SSL and SSH. Additional features include auto ASCII/Binary transfer selection, advanced file filtering, folder shortcuts, clipboard URL monitoring, and dial on demand. You can also queue your downloads for later. By adding files to download to a queue, you can continue on with your FTP tasks and start the download queue when you're finished.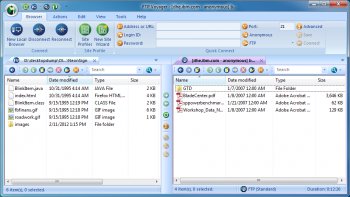 View Full-size
Latest Reviews
smaragdus reviewed v16.2.0.328 on Dec 18, 2016
The abominable ribbon interface ruined this FTP client.
uberfly reviewed v15.2.0.19 on Jun 7, 2014
Sooo... I was always awesome, but now it is completely free. Not shareware anymore. Just free.

Current version is 16.1.0.0
Plumber reviewed v15.2.0.15 on Jan 30, 2011
$50 per year for a bug-riddled FTP client that supports SFTP? With all the free and cheaper shareware alternatives? My goodness these people are mad.
emanresU deriseD reviewed v15.1.0.4 on Aug 3, 2009
It's loaded with bugs. You don't need to scratch very deeply to find them. Others have pointed just a few of them out.

It's sync feature, IMO, sucks. Not only is it clunky, it's nowhere near as effective or flexible as a true solution like Beyond Compare.

FileZilla lags way behind FTP Voyager in feature set and customization, but at least THAT author fixes bugs, rather than just adding them.
uberfly reviewed v15.1.0.4 on Jul 9, 2009
Higher-priced but for me, has always been solid. I've tried the others and can't get myself to change away from it's full and well thought out feature set. I rely heavily on its strong syncing tool for managing servers.
emanresU deriseD reviewed v15.1.0.3 on May 7, 2009
Greed > Quality
johnmadison reviewed v15.1.0.3 on Apr 17, 2009
FTP voyager's "drag and drop" doesn't work with my Vista 64bit machine...and no plans for an update to fix the problem. Couldn't get a refund from Rhinosoft for my purchase for FTP Voyager 15.

Switched to the free FileZilla ftp client for the time being.
I've used FTP Voyager (Secure) for years but I am finally dumping it, and I'm doing so with lots of time left on my "update protection" period. I just can't deal with it anymore...

I love the application underneath, and no other client has a "look and feel" that sits nearly as well with me, but the bugs are just too much. It's ridiculous. Don't they do any QA at all?

I can't deal with crashes while I'm in the middle of uploading many GBs of data. I can't deal with crashes that occur merely because I had the audacity to change the log settings. I can't deal with everything grinding to a halt because FTP Voyager feels like putting up dialogs telling me that some error occurred on an individual file being uploaded.

On that note: Why, WHY, WHY would they design an FTP client that makes all upload/download activity stop for individual errors, rather than having it gracefully continue? Why? Why? How infuriating is it to think you're running an upload task overnight, only to find in the morning that the entire operation ceased 9 hours ago? It's like designing a car so that the engine cuts off when the "Change Oil" light first comes on. (No, it's even more idiotic than that.)

And I can no longer deal with moronic upload dialogs that say I'm uploading data at a rate of "3.0 MB/s", when in actuality it's more like ~20 KB/s. Nor can I deal with dialogs that tell me I've uploaded 2.5 MB of a 1.0-MB file. That nonsense is entertaining for about 4 seconds, and after that it's just annoying.

And yes, the price is pretty ridiculous. Having to pay for bug fixes is also asinine. Having to pay extra just for SFTP/SSL is a joke. A very bad joke. It's a ripoff, and I feel foolish for having paid for it in the first place.

This is just the tip of the iceberg... Too many bugs, and too expensive. I can't deal with it anymore!
serendipityguy reviewed v14.1.0.3 on Oct 3, 2007
Yea I agree FTP Voyager is a great app, but it has seem to get bloated over the last updates and the price has made me make the move.

http://filezilla-project.org/

File zilla is a great FTP, open source and Free!
serendipityguy reviewed v14.1.0.0 on May 15, 2007
I am very happy With Voyager, I have used this client, and It is just a hands down great App..

but I will say this, it is Priced on the high end of all ftp clients, time to find another client...

I did enjoy the 2 year warranty wich was over priced also.