File Details

File Size
11.8 MB
License
Shareware, $9.99
Operating System
Windows 7/8/10
Date Added
June 7, 2018
Total Downloads
6,915
Publisher
Stardock Corp.
Homepage
Fences
Publisher's Description
Fences is a one-of-a-kind program, allowing you to draw labeled shaded areas on your desktop, which become movable & resizable containers for your desktop icons. These groups can help bring organization and consistency to your computer's desktop, solving the "constant mess" problem that has plagued the desktop since its inception.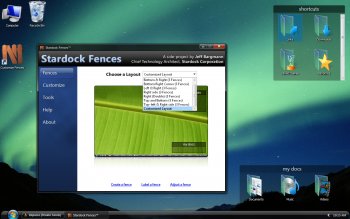 View Full-size
Latest Reviews
humbleuser reviewed v3.0 on May 22, 2016
Please list it as shareware, not freeware.
e.Myrcom reviewed v2.13 on Dec 21, 2014
Fences saves the day when it comes to keeping any kind of orderly desktop and having some control over how it behaves. One of my favorite features is being able to hide any amount of it and keep only what I want showing so I can actually see and enjoy my wallpaper. If the price is an issue for you, get on the mailing list and hang on until they put it on sale again, then grab it. Stardock makes several windows-taming programs that have more than paid for themselves in ease of use & pure aesthetics over the years.
DKDude reviewed v2.13 on Jun 27, 2014
I have used Fences since it was introduced, it's brilliant and I could not see myself not using it, it's a must have.

Other tools from Stardoc I could not live without is ModernMix, ObjectDock and Start8, if you are using windows 8, go and get them your won't regret it.
Music4Ever reviewed v2.12 on Dec 6, 2013
@mizkitty - Sorry you can only afford $4 - (you thought of getting gainful employment?) It's worth the asking price.
shrink57 reviewed v2.12 on Dec 6, 2013
Been using Fences for a while and it has tamed my cluttered desktop. Combined with Start8 makes using Windows 8.0 and 8.1 a pleasure.
Betanoob reviewed v2.1 on Apr 8, 2013
GTFO! It is worth 10 dollars! If that is too much for you, consider getting higher paying job than Walmart.
mizkitty reviewed v2.0.1 on Nov 13, 2012
This is $10...not free. Have to take the freeware labels with a grain of salt these days.

Worth it if you buy the Stardock packages all together but not on it's own...

Neat product though...might pay $4 tops (lifetime updates).
Flemens reviewed v2.0 on Oct 10, 2012
I have been looking for years for this kind of stuff and suddenly a month ago I stumbled on Fences. Just perfect form me. Works fine on Windows 8 64 bit too!
tickleonthetum reviewed v2.0 on Oct 10, 2012
This should be listed as commercial demo IT IS NOT FREE!!

Fences 1 was free and does a great job, but it's not worth spending money on it. especially as something similar should have been built into windows to begin with!

I will be sticking with version 1
pjb reviewed v2.0 on Oct 10, 2012
I have to agree V2 is worth the money. A lot nicer over V1.
V2 of Fences and Start8 are 2 great products made by Stardock.