File Details

File Size
13.6 MB
License
Shareware, $55.00
Operating System
Windows Home Server/Server 2003/Vista/XP
Date Added
August 7, 2012
Total Downloads
2,035
Publisher
Key Metric Software, LLC
Homepage
FolderSizes
Publisher's Description
FolderSizes is a powerful, network-enabled disk space analysis utility which provides users and network administrators alike with deep insights into how their local and network drive space is being consumed. It employs an advanced, multi-threaded file system scanning engine that works against mapped drives, UNC paths, and local devices. FolderSizes can export its disk space analysis reports in a variety of formats, including HTML, XML, and more... all accessible via a command interface for scheduling and systems integration. Free 15 day trial period.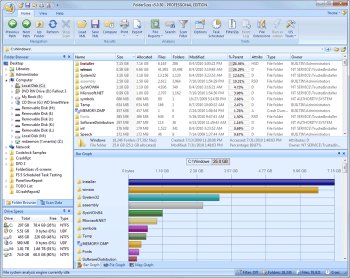 View Full-size
Latest Reviews
molumen reviewed v4.0.0.0 on Apr 24, 2007
I give it a 3 because USD 50 is too much for such a software, and because it seemed a little bloated when I ran the trial version.

I use a freeware small program called Scanner, and it gives me all the instruents I need.
take it here:
http://www.steffengerlach.de/freeware/
TomasF reviewed v3.6.0.0 on Mar 5, 2006
Very nice and effective disk content drill-down tool. I find the commandline interface and xml output particularly useful at it allows me to extend it by making my own web based reports. Also, the developer is extremely helpful and responsive.
Dirk van Hoofen reviewed v3.3.0.0 on Apr 11, 2005
This version has a few problems by net-drives (Novell). I test it on two computers with german OS (Windows XP). It hangs permanently, if i scan compressed folders; then it create a "localisation error".
A alternative I found unter http://www.jam-software.de - call TreeSize prof.

Better you use TreeSize professionell (www.jam-software.de)-you receive special reduce prices for students and you can install a lot of languages.
CyberHobo reviewed v3.3.0.0 on Apr 11, 2005
The best in it's class. Scans quickly and provides professional looking graphs, both pie and bar. Results can be exported in several kinds of formats. Excellent customer support. Seems author doesn't sleep until application issues are resolved.
It is completly useless for Total Commander users that can use DirSizeCalc plugin for free:
http://www.totalcmd.net/plugring/dirsizecalc.html
TomasF reviewed v2.6.0.2 on Aug 1, 2004
An excellent diskspace monitoring solution with powerful reporting and export features, including xml, and good commandline support for scripting and scheduling.
ziria reviewed v2.02 Beta on Dec 19, 2003
What a piece of crap! "quickly and efficiently" my butt.
I only have a 30GB drive and it definitely took more than "quickly and efficiently" I'll stick to my Windows Explorer, thank you very much.

Oh, watch out when you uninstall this software. I don't know what I did, but it screwed up my registry big time.

I think there's some spyware in the beta too. My ZoneAlarm went nuts when I launch the program.

"Just Say No!"
rotjong reviewed v2.02 Beta on Dec 18, 2003
Nice program but it's NOT freeware even though the beta website mentions it being free in window title.
beta_boy reviewed v2.01 Beta on Dec 18, 2003
This is easily the best program in this class of applications. I actually bought the thing one day after I tested the new beta - it's that good.

This one should not be missed.
mmatheny reviewed v2.01 Beta on Dec 11, 2003
For a great freeware one, look for TreeView.