File Details

File Size
31.4 MB
License
Freeware
Operating System
Windows (All)
Date Added
June 3, 2015
Total Downloads
80,495
Publisher
Tencent Inc.
Homepage
FoxMail
Publisher's Description
Foxmail is a compact, yet very powerful email program with many useful features and a pleasant interface. It supports POP3 accounts as well as Hotmail accounts and offers support for HTML email, multiple accounts, mailbox encryption and more. It also comes with a WYSIWIG tool to compose nice looking HTML emails from templates or scratch. The program also offers filter options, allowing you to act upon incoming mail that meets certain criteria - you can delete messages, forward them, auto-respond to them and more based on keywords appearing in the subject, address, text etc. The Express Send feature enables you to send mail directly to the recipient, using the built in SMTP server, thereby bypassing your ISP. It includes many other features, including a remote mail viewer to manage mail on the server, as well as a small scroll ticker that displays message subjects as they arrive in your inbox.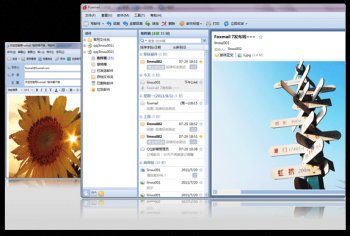 View Full-size
Latest Reviews
dsp_418 reviewed v7.2.6 on Dec 23, 2014
Could be a great client, unfortunately if fails. Here's why:

- No international spell checker support (only Chinese and English)
- Is not possible to turn off automatic html images loading in messages (also means, possible security issue here)
- Is not possible to export contact from the address book
- Filters manager window is not resizable (with lot of rules it gets clumsy).
CyberDoc999 reviewed v7.2.6 on Dec 17, 2014
see

www.emclient.com
mfarmilo reviewed v7.2.5.140 on Jul 4, 2014
Installation dialogs for this are in Chinese, so it's impossible to install. Might give it another shot if they ever get round to releasing an English version.
gggirlgeek reviewed v7.1.3.52 on Apr 22, 2014
I'm sticking with Foxmail 7.0!

With 7.2 you can't customize several annoyances. 1) The mail list is grouped by date and you can't ungroup it. 2) There's no way to change the font of the view or preview panes, nor the background color. 3) When viewing the RSS list without a preview pane, or with preview on bottom, the titles in the list don't show at all. With RSS feeds I would also like to be able to search them. But this is missing in all versions of Foxmail.

I use foxmail because all other email clients consume huge resources, including most browsers. Since I use IMAP, I just want a simple, small, program. Foxmail is the closest I can find. I love the fact that I can run it on a portable drive without installing it on each operating system I use.

However, it doesn't have a way to synch my address book with gmail. Other popular clients screw this up too (I usually end up with hundreds of duplicates on my Android.) I REALLY need a solution for this but I don't want to link my operating system to a Microsoft live account (too scarey!)

If anyone knows of a good gmail contacts syncing program for Windows let us know!
swissschaub reviewed v7.1.3.52 on Mar 14, 2014
Just upgraded from version 7.1 (which seems to have some issues) to 7.2. Very pleased with the new version. I have been using Foxmail for many years and it has never let me down. To get the English menu had to delete the Chinese lgb files. Importing all data from old version worked perfectly. It is recommended to do a clean install instead of upgrading you can import all the mails, filters, labels, signatures, templates etc from the previous version (some copy and paste is required for some items like Labels.
Version 7.2 with a clean install is using only have as much space as a upgrade. It also works perfectly on a USB stick or portable drive.
I can not understand the comments from Hilbert. Why do you want to install a mail program if you don't have a e-mail account. There is Hotmail, Yahoo, Gmail and many more free mail programs. Sign up with one of them and install your Foxmail, as simple as that. I have been using Eudora, Pegasus, Outlook, Becky, Thunderbird and many more and Foxmail is the best in all aspects.
Hilbert reviewed v7.1.3.52 on Nov 14, 2013
There's no off-line installer or obvious way to setup an account off-line, so the program is essentially useless in deployment terms.

Moreover, FoxMail WON'T EVEN START unless there's an account--no access to the server, the internet down etc. and you're truly stuffed. Nor, seemingly, is there a pre-configurable .ini file or such that a user can edit beforehand.

The programmer of this email program really is an imbecile, as he's not even thought the basic operational logic through before he's started programing!

If the programmer ever reads this then I suggest he downloads an ancient copy of Eudora mail, (v 7.1.0.9 is still downloadable) and examine how eudora.ini works! Essentially, there's multiple ways of creating accounts off-line (which one often has to do in corporate environments).

(For that matter, can anyone tell me how one is expected to set up this program if say the server account has not yet been set up? With email, often client-side setups are done before the server account is created.)

Classic Catch-22.
some guy reviewed v7.1.3.52 on Nov 14, 2013
crapware
UPieper reviewed v7.1.3.48 on Sep 1, 2013
From Majorgeeks website:
By default the Foxmail interface is in Chinese. To use Foxmail in English just go into the installation directory and delete the Chinese.lgb file. However, for the English version the 'Reply' feature will be affected (the content of the original message will not displayed in the reply - you can use the HTML templates to avoid this)
stephenstud reviewed v7.1.3.48 on Aug 28, 2013
Looks nice, I installed it but like someone else said I cant read that language.
Blaxima reviewed v7.1 on Jul 3, 2013
Wouldn't mind giving it a try but the installer is in Chinese