File Details

File Size
14.4 MB
License
Freeware
Operating System
Windows (All)
Date Added
December 16, 2022
Total Downloads
38,735
Publisher
Marek Jasinski
Homepage
FreeCommander
Publisher's Description
freeCommander is a dual-panel file explorer with many features. In addition to the standard file management features, it can be used to compare directories, display folder sizes, synchronize folders and more. The program can also open/create ZIp and CAB files, and open RAR files as well as search inside those archives. You can set view filters, create folder list (for printing), change file attributes, launch a command prompt, take a desktop screenshot and more.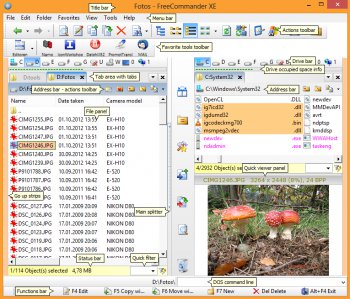 View Full-size
Latest Reviews
jquigley reviewed vXE 2023 Build 880 on Dec 17, 2022
My favorite file manager. I have been using it for years.
some guy reviewed vXE 2019 Build 790 on Dec 23, 2018
excellent tool indeed especial multi partitions and hard drive browsing and transfers Glad to see this is still being updated !
some guy reviewed vXE 2017 Build 760 Beta on Sep 23, 2017
fantastic !
Music4Ever reviewed vXE 2016 Build 730 Beta on Oct 24, 2016
Used this for some time & is my choice of file managers, great program. The UI is good - Always 5 stars without question.
Vivek Kowshik reviewed vXE 2015 Build 700 Beta on Oct 24, 2015
Unquestionably the best. I have been using this as my default file manager for the last several years. Works just as intended. But have not seen much activity in recent times.
pforbes reviewed vXE 2015 Build 685 on Feb 3, 2015
An excellent program which is improved at every new version. No doubt one of the best.
I keep using it since long ago because of its flexibility and excellent results.
TuxmanXP reviewed vXE 2015 Release 680 Beta on Nov 14, 2014
While FreeCommander might be the best non-payware OFM on Windows, it lacks the user experience of its payware compatitors. The UI looks just cheap.
mikebratley reviewed vXE 2014 Release 650 on Mar 11, 2014
very good
chrispaul reviewed vXE 2014 Release 650 on Feb 17, 2014
good stuff
bobad reviewed vXE 2014 Release 650 on Dec 25, 2013
While not perfect, I think FC is the best out there. It's amazing how many file managers there are, and even more amazing how many shortcomings they have. Many of them simply do not work in an X64 environment, some do not work with external copy programs such as Teracopy, some have garish colors that make your eyes bleed, some have tiny tool bar icons which you can neither see nor adjust. FC is not really X64 compatible, but uses a satisfactory transparent workaround. I especially like the flexibility of FC, and I use single window and a tree (Explorer style). Personally, I think tabs make dual window file managers obsolete. You can do anything with tabs you can do with extra windows, and they're also more compact and flexible. FC tab implementation is very good, BTW. You can choose to close all non-locked tabs on closing FC, a feaure which some FM's inexplicably omit.

Try it, I think you'll like it!