Publisher's Description
Gadwin PrintScreen captures the contents of the screen with a single keystroke. The captured screen can then be sent to the printer or saved to disk as a file in 6 different graphics file formats. It can capture the entire screen, active window, or specified area when the hot key is pressed. The hot key defaults to the PrintScreen key, but users may also define other keys to initiate a capture. Also allows you to e-mail the captured images to recipients of your choice.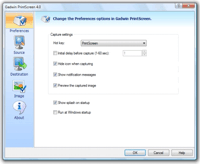 View Full-size
Latest Reviews
nilst2006 reviewed v4.8 on Aug 9, 2012
Can do the same with the key "Print Screen" and then paste into f.ex Paint.net.
pjafrombbay reviewed v4.8 on Aug 8, 2012
There is a 4.7 free version!

Regards,
Peter
Bala7 reviewed v4.8 on Aug 8, 2012
4.8 is the PRO version
free version is 4.6
oompoop reviewed v4.3 on Nov 30, 2007
Searched such a program because GWS Camera couldn't capture pop-up-windows.
First I had difficulties with the bmp-format, but since changing to jpg all runs perfectly.
Therefore ...
Landsnes reviewed v4.3 on Nov 10, 2007
Nice!

A very good program for screen capturing. Works great each time.
Ulmo reviewed v3.0 (Updated) on Sep 19, 2005
Perfect form my needs.
Does enough, an very well.
the_root reviewed v3.0 (Updated) on Sep 16, 2005
Great little app that is easy to use. Don't know why it would cause any crashes as it is not an intrusive program.
tmaioli reviewed v3.0 on Aug 26, 2005
Great little app....I recommend it. I also like that I can save in different formats. Nice program, seems never to crash for me. Some people no matter what - want to blame crashing on something, used it for years, no problems. Highly recommended!
ark2000 reviewed v3.0 on Jul 26, 2005
have been using 2.6 for a long while, first time ever it crashed today, then the new version comes out... how perfect is that? =)
Nikkita reviewed v2.6 on Jun 15, 2005
Gadwin PrintScreen isn't so versatile as, say it, SnagIt but it is small, free and does it work very well. A propper tool for an average computer user, perfect for simple screenshot tasks.