File Details

File Size
0.2 MB
License
Open Source
Operating System
Linux, Mac, Windows (All)
Date Added
March 21, 2011
Total Downloads
22,198
Publisher
Todd Long
Homepage
Gmail Manager
Publisher's Description
Gmail Manager allows you to manage multiple Gmail accounts and receive new mail notifications. Displays your account details including unread messages, saved drafts, spam messages, labels with new mail, space used, and new mail snippets.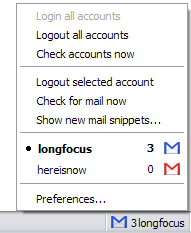 View Full-size
Latest Reviews
petergrew reviewed v0.6.4.1 on Aug 8, 2023
You can also you Shoviv Gmail backup tool.
https://www.shoviv.com/gmail-backup-tool.html
ballyhairs reviewed v0.6.2 on Jan 19, 2011
Crap, I can write a better one in less than 10 minutes.
Use Web mail notifier add-on for Firefox
DudeBoyz reviewed v0.6 on Feb 1, 2010
Not a bad app, but why not just use IMAP with Thunderbird or Outlook Express?

There must be a market for it, and it's cool that it's open source. Just not all that awesome in concept, I guess.
dink reviewed v0.5.7.2 on Jul 27, 2009
With this add-on my google account does not stay logged on when Firefox is closed and then restarted. Also the favicon notification says I have 3 unread messages when I actually have no new mail. Gmail Notifier is bug-free.I do like the look of the context menu of this app, but it is poor for functionality. I would recommend Gmail Notifier instead of this app.
SledgeDG reviewed v0.5.5 on May 28, 2008
The best multi account manager for Gmail no doubt about that.
Just one question...why doesn't the update come through the usual channels like all the versions before?
Niksa reviewed v0.5.3 on Jan 15, 2007
Even I would prefer stand-alone app that have same look & feel & functionality by my opinion this is best Gmail account manager so far. Thumbs up!
longfocus reviewed v0.5.1 on Sep 3, 2006
To Anjin771, this extension logs in the same as you would if you went directly to the login page for Gmail. There is no difference and the security is the same which uses SSL encryption. All passwords are stored in Firefox's password system and are protected. Hopefully that clears that up!

- TL
Anjin771 reviewed v0.5.1 on Aug 30, 2006
It seems to do all the work in cleartext (e.g. not encrypted).
Whilst okay with some users this is totally not okay with others (I would say all should resist).

Other than that usability and functionality seems just great!

Thanks.
benZin reviewed v0.5 on Jul 26, 2006
That's perfect. :)
Jordanr05 reviewed v0.5 on Jul 26, 2006
To Tenoq, thanks for that absolutely useless review. Who cares if Thunderbird checks your Gmail. What does this have to do with rating this program?

Program works perfectly in Firefox - the best Gmail extension out there.