File Details

File Size
15.7 MB
License
Subscription, $15.00
Operating System
Windows 7/8/10/Vista/XP
Date Added
January 15, 2021
Total Downloads
23,950
Publisher
GoldWave Inc.
Homepage
GoldWave
Publisher's Description
GoldWave is a comprehensive digital audio editor. GoldWave can: Play, edit, mix, and analyze audio; Apply special effects, such as fade, equalizer, doppler, mechanize, echo, reverse, and more; Digitally remaster and restore old recordings with noise reduction and pop/click filters; Record audio from cassettes, records, radio, etc. through your computer's line-in; Make digital copies of audio CD tracks using the CD audio extraction tool; View a variety of real-time graphs and VU meters; Convert files to/from different formats, such as wav, mp3, ogg, aiff, au, vox and even raw binary data.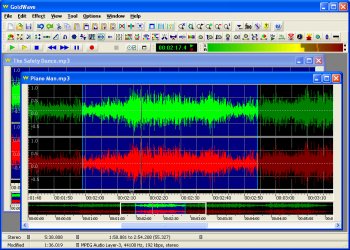 View Full-size
Latest Reviews
renegadeviking reviewed v5.51 on Oct 15, 2009
I have a rocketfish USB microphone which is supposed to recognize any OS Win5+ automatically. Goldwave instantly recognizes my microphone. I normally talk in it, delete some tracks by highlighting and punching del button. Then I can raise the volume and it sounds better over the decimal level on Mediacoder. I use it for every podcast. I don't know how to override the internal vorbis encoder, only Aotuv b5 of 10/2006.
egg83 reviewed v5.23 on Feb 20, 2008
Highly functional program, works with many common sound formats, is worth every penny paid. Very intuitive interface, you will not be disappointed.
ssb reviewed v5.23 on Feb 20, 2008
Simply the best!
onestar reviewed v5.23 on Feb 20, 2008
Simply the best editor, period.
Been using it for years and it's always "just worked".
brusco reviewed v5.18 on Jan 4, 2007
A pleasure to use, stable, and so much functionality in such a small package. Attributes that are all too rare these days.
shantanu reviewed v5.13 on Apr 13, 2006
Amazing software. Small and loaded on features. Love it!
bugmenot reviewed v5.12 on Nov 24, 2005
fast and easy to use. Good Buy.

all so check out ngwave and audacity
roj reviewed v5.12 on Nov 20, 2005
An excellent piece of software that is well worth the money. Audacity cannot do the sophisticated cue editing, mixing and effects that this audio editor manages effortlessly.

It's a bargain at this price.

Five stars.
Amazing program.
mmebane reviewed v5.10 on Feb 17, 2005
Very good tool, but for most things I can use the freeware Audacity, which is looking nice since 1.2.