File Details

File Size
1.2 MB
License
Freeware
Operating System
Windows (All)
Date Added
December 29, 2016
Total Downloads
17,568
Publisher
MoreQuick
Homepage
GreenBrowser
Publisher's Description
GreenBrowser is a multiple window web browser. Includes features such as Quick Key, Collector, Mouse Gesture, Mouse Drag, Ad Filter, Search Engine, Page Back Color, Toolbar Skin, Proxy, Tab Bar, Auto Scroll, Auto Save, Auto Fill Form, Start Mode, etc.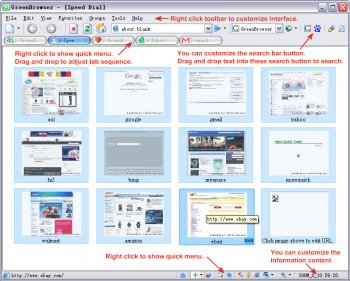 View Full-size
Latest Reviews
Betanoob reviewed v6.0.1002 on Oct 3, 2011
Horibad!!
Give it up!
Pfurri reviewed v5.9.0802 on Aug 2, 2011
Still the BEST IE-Clone !!!
eviljolly reviewed v5.9.0412 on Apr 13, 2011
I went ahead and loaded this inside of a virtual machine for grins. Not sure about the spyware/malware claims, but this is simply an IE wrapper, and not much of one at that. Aesthetics are poor, and completely bombs Acid2, Acid3, and Sunspider tests, as I would have expected since it's running on IE.
davana reviewed v5.5.0707 on Jul 7, 2010
This junk still around? HAHA
We don't want you Chinese spyware!!
Jtaylor83 reviewed v5.3.0409 on Apr 10, 2010
Chinese malware. This crap is bundled with Baidu.
shadowdemon09 reviewed v5.1.0523 on Jun 13, 2009
Great browser, fast and easy to use. lightweight and lets me hide the taskbar button, thats handy for me since i usually have alot of programs running at once. and to the people that bring up firefox, or the gecko engine, guys, i have a high-end pc, when it was a clean install, firefox or any gecko engine takes like 5 min just to start up, and the extensions is annoying. specially since most of the extensions are useless.. great browser tho, i love it!
FreeSpeech reviewed v4.8.1211 on Dec 11, 2008
Ewwu this stinks! Horrible, ugly, cluttered, slow, buggy........
davana reviewed v4.7.0902 on Sep 2, 2008
Still crashes, still junk! Thankfully, the uninstall works! Maxthon wannbe, but will never be!
argybee reviewed v4.6.0722 on Jul 23, 2008
.... " If you think our software are good! It's welcome for you to donate. We will provide best support for donative user and make the software better! "....
hmmm... me hope machine code translate better then engrish tranlate...

look more like bluebrowser in screenshot...
some ideas ok though
Brian49 reviewed v4.6.0606 on Jun 6, 2008
The changelog says "Improve: Ctrl+Tab switch order", but in fact that feature is now messed up - if you have several web pages open, hitting Ctrl + Tab just cycles back and forward between the first two pages.