File Details

File Size
3.0 MB
License
Freeware
Operating System
Windows (All)
Date Added
February 11, 2018
Total Downloads
16,557
Publisher
abelhadigital.com
Homepage
HostsMan
Publisher's Description
HostsMan is a freeware application that lets you manage your Hosts file with ease. Features online update of hosts file; enable/disable usage of hosts file; open Hosts file with one click; merge two hosts files; built-in hosts editor; prevent other programs of writing to the hosts; scan hosts for errors, duplicates and possible hijacks; find how many host names; easily install newly downloaded hosts file; create encrypted backups of your hosts file; resolve host names; keep log of latest blocked sites; exclusion list and more.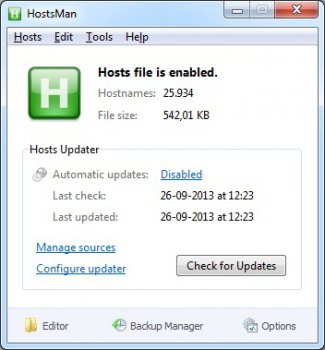 View Full-size
Latest Reviews
Betanoob reviewed v4.0.88 Beta 9 on Sep 12, 2012
Ignore the clueless. Great app!
OldNick reviewed v4.0.86 Beta 7 on Aug 6, 2012
seems too geeky for the casual user
HeilNizar reviewed v4.0.86 Beta 7 on Jul 17, 2012
-Needs to be portable, where it writes to no where but that hosts file.
-Auto upgrade to new versions.
-Command-line support.
-Less child windows, whats wrong with tabs?!

Good luck
JeremyP reviewed v4.0.86 Beta 7 on Jul 16, 2012
Crashes on Save.
DKDude reviewed v4.0.84 Beta 5 on Apr 16, 2012
Love this program, keep up the good work.
rloureiro reviewed v4.0.84 Beta 5 on Apr 13, 2012
I'm the developer of HostsMan.

@HeilNizar:
1: You're right. As a developer, I have a lot to learn.

2. Nowhere in the official site (abelhadigital.com) is mentioned that HostsMan is portable. Some sites decided to label the non-installer version portable. Why they do this, I don't know. You have to ask them. I haven't submitted my software to any site. If my software is featured somewhere, it's because they decided to add it to their sites.

3. This version is in beta stage for a couple of reasons: a) there are features missing; b) a lot of stuff is untested.

4. The bug you mention will be fixed in the next beta, but please realize that I'm not a mind reader. The best way to let me now about a bug is to either report it in the official forum or send me an email. I'm here now because someone else brought this to my attention.

5. I merely develop free software to offer alternatives to existing solutions and also to learn from it. You're more than welcome to develop your own.
HeilNizar reviewed v4.0.84 Beta 5 on Apr 12, 2012
You look like a noob developer..
-Portable and AppData don't mix, portable means write to no where but your app folder.
-After reminding you twice that you need to fix the download size status control, you finally fixed its Y and not X on resize.

I guess I will have to submit my own HostsManager app.
HeilNizar reviewed v4.0.81 Beta 2 on Feb 25, 2012
You don't seem to get it, let me help you some more..
http://img196.imageshack...g196/7862/captureyu.png
Sativarg reviewed v4.0.80 Beta1 on Feb 21, 2012
From: rloureiro Re: HostsMan V4.0.80 B1: Cannot download/install HpHosts Fi

I've just finished fixing this bug.

Just want to let you know that this is a UI problem. HostsMan does download updates from hpHosts and hpHosts partial, but fails to report the download progress correctly.

I expect to release Beta2 soon.

Once again, thanks for reporting this bug.
HeilNizar reviewed v4.0.80 Beta1 on Feb 20, 2012
This one is not working, updates failed etc, I can imagine its beta.
Also I noticed that you still didn't fix the position of download size control when GUI gets resized, it doesn't even start in the right position.