File Details

File Size
4.2 MB
License
Freeware
Operating System
Windows (All)
Date Added
November 15, 2020
Total Downloads
34,155
Publisher
Jordan Russell
Homepage
Inno Setup
Publisher's Description
Inno Setup is a feature-packed installation builder. Features include a wizard interface, creation of a single EXE for easy online distribution, support for disk spanning, full uninstall capabilities, customizable setup types, integrated file compression, support for installing shared files and OCX's, and creation of Start Menu icons, INI entries, and registry entries.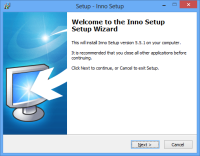 View Full-size
Latest Reviews
Works great.
some guy reviewed v5.4.1 on Feb 9, 2011
great stuff!
nvic reviewed v5.3.11 on Sep 16, 2010
Haven't used it in a year or so, but when I used to use it, it worked fine.

This seems to be the standard now for free install creators...used by so many applications.
Chocobito reviewed v5.2.3 on Mar 12, 2008
I prefere a more user friedly aplications like Smart Install Maker, but this deserve the high rating :)
Gerhard reviewed v5.1.14 on Aug 8, 2007
Personally I prefer NSIS, but INNO is great as well! goes down to user taste.
Crypton reviewed v5.1.11 on Apr 22, 2007
Been using Innos for a few months now, upgraded as soon as this came out of course, but from the official site. When I first started using it and knew nothing about how to use it or even scripting in it, I had thought it was not "very good" as well as "not powerful" compared to NSIS ect..

However, I was completly wrong, once I learned all the ins' and outs of this program I have come to love it. Not only is it very powerful but things are a breeze now building even complicated installers. IS Tool is also one of my favorite additions to the compiler itself.
muka3d reviewed v5.1.11 on Mar 5, 2007
Not as powerful or efficient as NSIS, but still an excellent installation system. Second best.
some guy reviewed v5.1.9 on Dec 11, 2006
I'm not a software programer but this instalation package is so easy to use it can make a newb like me create a swf file use autorun .inf burn cd and I made something cool.
hats off for a great job!
DarkSaga reviewed v5.1.8 on Nov 19, 2006
I think that Inno is the best installer, and is free! Also NSIS is a very good one (in some aspects also better than Inno), but its scripting language is less intuitive then Pascal.
some guy reviewed v5.1.7 on Aug 25, 2006
glad to see a update:)