Other Versions
Publisher's Description
Instantbird is a multi-protocol Instant Messaging client. Using it, you can connect to all your different IM accounts. It uses the Mozilla rendering engine to display IMs, and the Pidgin libpurple to connect to the different networks. Instantbird is a free and open source software.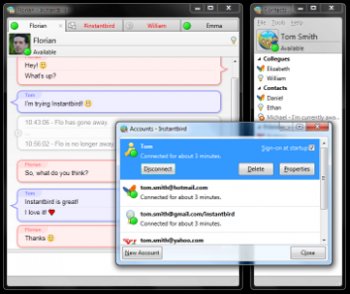 View Full-size
Latest Reviews
tylerhw reviewed v0.1.3 on Dec 19, 2008
I'll treat this like Spicebird - another clone of an app that is already good, it's not like its bad, its just been done, no need to reinvent the wheel. I'll still stay with Pidgin, especially considering I can now use FaceBook Chat with it.

@AntiochMedia

Digsby uses Audio/Video through TokBox so its no major implementation, and GTK doesn't look bad when you change the theme to match your computers theme. But I am with you on the fact that Digsby is a safe app, I've tried it, I liked it, but it doesn't support all of the protocols I need.
AntiochMedia reviewed v0.1.3 on Dec 19, 2008
To everyone who thinks this has great potential, take the time to try 'Digsby', which BN had posted a few days ago... too many Multi-IM clients are focused on standards compliant application framework development and the end result suffers and is neglected. I'm passionate about the benefits of Miranda IM... hate Pidgin due to GTK and the feeling that the project has lost momentum and interest (right when audio/video became a focus in Google Summer of Code)... and well, Digsby impresses me GREATLY. It does everything that this app is setting out to do, and it's already available with a lower memory footprint.

And Kylde, Digsby does not install malware. It installs a way for the organization to generate revenue. As a developer, I can appreciate their model as it is transparent and for users like you and I, we can opt out because we actually -care-. There's nothing malicious about Digsby.

http://blog.digsby.com/archives/68

"Lastly, we have made this module 100% optional. You can disable it in the main menu by going to "Help > Support Digsby" and disabling the "Help Digsby Conduct Research" option. We linked to this blog post in the FAQ section of our website and we'll be adding more info explaining this feature into Digsby itself, as well as, more extensive options like the ability to set how much of your CPU to use."
tristan202 reviewed v0.1.3 on Dec 19, 2008
Rubbish. Didn't manage to get it running. Kept crashing with various missing dll's. Tried copying all over from my Firefox installation, but didn't help.
K94517 reviewed v0.1.3 on Dec 19, 2008
A fantastic piece of software, but you are not welcome so there is no way to download it. Or they're counting all those empty clicks as downloads.
ModderXManiac reviewed v0.1.3 on Dec 19, 2008
Shows tremendous potential, and this is an early project so I will rate it fairly.

What I really need out of this is a way to identify mobile users because I have a few friends who switch between their phones and PC's, and it really needs a taskbar icon..taskbar icons are a must for IM programs.

Tons of potential, I like it!
Kylde reviewed v0.1.3 on Dec 19, 2008
Digsby? You jest? Do you know it installs malware? A java app that runs on idle CPU cycles and send unknown data back to the mothership. Check the digsby forums for proof
psycros reviewed v0.1.3 on Dec 19, 2008
Digsby is the last word in programs of this type.
Nikkie reviewed v0.1.1 on Mar 26, 2008
The download link is broken? I guess a release is coming then..I'll wait..

yeh pidgin is fine but extensions may be easier to create than plugins.people may create more than they have with gaim/pidgin.I use digsby right now but it seems a bit limited and doesn't feel right.
Miranda annoys me cause the addons are too much work but it does do a lot.

i hope this one will work out and be what i prefer.
hopefully greasemonkey and stylish scripts somehow get integrated..
DakotaSunRunner reviewed v0.1.1 on Mar 10, 2008
Just exactly how many of this messengers do we need?

I did not care for this, needs work and I do not think this software is really necessary at all.
Nikkie reviewed v0.1 on Feb 22, 2008
''Add-ons can be written easily and shared for everyone''

I hope like extensions for firefox browser.
a site with user uploaded extensions would be great.
I am not interested in miranda or pidgin right now.
I am kind of annoyed with both programs.
I hope this turns out good..