File Details

File Size
0.2 MB
License
Open Source
Operating System
Windows (All)
Date Added
October 9, 2015
Total Downloads
31,246
Publisher
SingularLabs
Homepage
JavaRa
Publisher's Description
JavaRa will check if your computer has the latest version of Java Runtime Environment (JRE). If the version you have installed has been superseded by a newer version the program will download and install this newer version for you, by running Java's update program. It then allows you to remove all possible older versions of this program. This will ensure that the security of your computer is enhanced and extra space on your hard disk is created.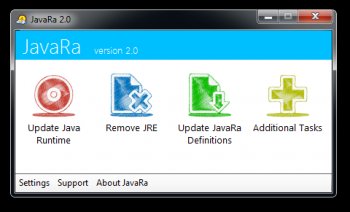 View Full-size
Latest Reviews
psycros reviewed v2.6 on Apr 22, 2014
Seems to do nothing..it can't even download definitions. Probably spyware.
CyberDoc999 reviewed v2.3 on Sep 12, 2013
avoid
100% spyware
this will give you a drive by.
better to use
ninite.com
Music4Ever reviewed v2.2 on May 29, 2013
Avoid this website - Following the ULR to (Paul McLain) the publisher triggered a unwanted drive-by download of what appeared to be Adobe Flash but it was halted by ESET as a Trojan.
some guy reviewed v2.2 on May 28, 2013
does what it says , this can be done as well through your browser
http://www.java.com/en/download/installed.jsp
natsmith52 reviewed v2.1 on Feb 3, 2013
Home link:

Access Denied
The owner of this website (singularlabs.com) has banned your access based on your browser's signature (61736667-cl-ua-1). (Ref. 1010)

•Timestamp: Sun, 03 Feb 2013 08:06:35 -0800

•Your IP address: 97.115.102.103

•Requested URL: singularlabs.com/

•Error reference number: 1010

•Server ID: FL_28F3

•Process ID: PID_3b0dcaa5f37050e

•User-Agent: top.location.href='http://txt2pic.com' (compatible; MSIE 8.0; Windows NT 5.1; Trident/4.0)

Your IP: 97.115.102.103© 2012 CloudFlare, Inc.
Music4Ever reviewed v2.1 on Jan 16, 2013
The problem with this program is that those who are security conscious are removing altogether Java because it's an ongoing liability - It's good in that you can keep up with the latest exploit fix but you are better off without java on your PC if you can live without it - Java remains on only one of my PC's for the odd time I need it.
niknetpc reviewed v2.0 Beta 3 on Apr 23, 2012
Cool, fully removed non existing old Java installation in seconds! No other helps better.
Renaak reviewed v2.0 Beta 3 on Apr 22, 2012
Long time user, works great and doesn't need to be "dumbed down" for the people without two brain cells.
Gripweed reviewed v2.0 Beta 2 on Mar 14, 2012
Very confusing interface. You go to click on remove old versions and it tells you that its going to remove the newest version as well. There are three ways to check on which version you have with no recommendations as to which to use. Even online help is confusing. In the end I seem to have wound up with just the newest version but I can't help but think that I made a few wrong turns on the way to getting there. They need to simplify. Get New and Get Rid Of Old. Those should be the only buttons and they should only do what the name implies they will do.
Uriel reviewed v2.0 Beta on Jan 28, 2012
Very nice utility. Java can be messy and this tidy's up the job during the update process very nicely.