File Details

File Size
2.4 MB
License
Shareware
Operating System
Windows 7/8/10/Vista/XP
Date Added
August 13, 2020
Total Downloads
289,341
Publisher
Kaspersky Lab
Homepage
Kaspersky Internet Security
Publisher's Description
Kaspersky Internet Security delivers premium PC protection from all Internet threats. Industry-leading technologies, such as Safe Money and Secure Keyboard, ensure you're always safe as you bank, shop, surf, social network, and more. Plus, optimized performance technologies allow you to enjoy the Internet to its full potential without slowing you down.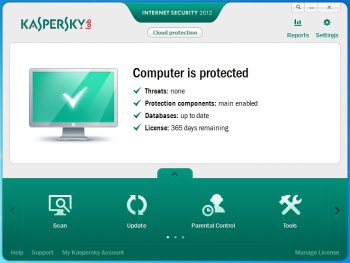 View Full-size
Latest Reviews
carlvui reviewed v2015 15.0.0.463 on Jul 20, 2014
Unfortunately, KIS newer and newer versions are getting worse and worse.

Basically, their antivirus signatures are among the best that is one thing that raised Kaspersky. But today in modern computing virus definition and its traditional work does not give more than 40% protection.

And that is where Kaspersky loses the game. While its traditional antivirus is still brilliant, the other features – heuristic, network attack blocker, application control, firewall, system watcher, full scan, vulnerability scan, self-defense, parental control – are terribly buggy, work unreliably and have serious compatibility issues. New releases of their new versions are unusable they are only getting better from version G or I after many patches and after a good 6 months.

Newer versions are getting heavier and slower. I have been using and have installed from KIS 7 to ....KIS 2013, 2014, 2015 on three different language platforms after clean install of Windows XP and Windows 7 and they produced different incidents. Too many for listing here.
Features in the "Tools" section such as " Microsoft Windows Troubleshooting, Vulnerability Scan, Privacy Cleaner, Browser Configuration " are retrieving many false results and potential danger to your system if you decide to click the "Fix" button. Please be prudent using these functions.

These bugs might present themselves differently on different OEM and language platforms, but on the whole they present danger on every platforms.

As if it wasn't enough, Kaspersky support – again might be different in many countries – is very poor, insufficient, and often arrogant or rude as it happened to me.

Said thing to see, how the arrogance of big and multinational companies gained on Kaspersky.

These bugs haven't changed, remained unfixed and are the same from KIS 2012 on, it seems they don't even care and gave up further development of compatibility, and functionality. These deficiencies and carelessness as well as their arrogance of the last 3 years convinced me that I'd better look for and find an other IS softpack.

Kaspersky is totally hopeless and although their advertisement and marketing technique is getting better and their product is offering more features and security, in reality this is all false, nothing more than inviting promises while the quality of their product is seriously degrading.
mikebratley reviewed v2014 14.0.0.4651 RC on Mar 11, 2014
5 stars so good
johnusa reviewed v2014 14.0.0.4651.5467 Rev. D on Dec 24, 2013
Are you kidding me? A 221 MB setup file? Why in the world it is so huge.
I'll pass.
Artem S. Tashkinov reviewed v2014 14.0.0.4651 on Aug 30, 2013
Version 13 was fast and compact.

This one consumes up to 600MB of RAM and it's dog slow.

No, thank you.

It's time to switch to Avast.
pdail reviewed v2014 14.0.0.4651 RC on Jun 21, 2013
Installed this today. So far no hiccups at all. Really like the UI. Will be interesting to test this.
Terumo reviewed v2014 14.0.0.4021 Technical Preview on May 11, 2013
Music4Ever is right, it is a beta so there must be some bugs. That's why it's called beta, find errors and post the error. If you do not like the beta so wait until it's out of beta. Then you might want to give it 5 stars you know.
Music4Ever reviewed v2013 13.0.1.4117 Beta on Aug 2, 2012
@NoMac -

'I gave it 3 stars based on the products current status and reputation, as well as the reviews currently posted.'

Exactly you rated it on the reputation of Kaspersky not on the version released - If you are beta testing it's of no help to whatsoever to Kaspersky if you give glowing reviews if there are major issues with a product that need sorting, that's the idea of beta software being released, they need to know how the product is working on users PC's & if there are problems they need to know what they are. Your comment 'wait for the final' is gormless.

BTW I'm no lamer & have used IBM clones since the 286 so this is not my first day. As to reviews posted I am the only one who has taken the time to download 2013 on 'File Forum' then installed & tested it. I doubt very much if you have done that. I also tested the separate AV also.

You are obviously a Kaspersky fan & that's fair enough but when you test a product you run & comment as it is NOT on what was or what your prediction of the final will be. As for new additions I have read each & every change-log. And I stand by my review of the RC, it was unbelievably buggy.

Before you have a go at me at least download & run the versions posted here as it doubtful that you have & you are certainly actually running version 2012 as betas of 2013 have been unusable - I've used just about every AV on the market & some of the 'new' additions are to be blunt gimmicks as are some of the new add-on's to Norton & Bit-Defender for instance. The Firewall module of Kaspersky is still easily taken out, & you are far better off with the AV & a standalone Firewall. AV companies are now in a rut of having to release a new version each year just because the rest do, they would be far better consolidating a version rather than a new version & interface each year.

You are a typical person who has used the same product for years & can't deal with any criticism - I too have used Kaspersky also & is OK but no better than many other AV's out there.

As for a any one AV being the best that is a very subjective point of view, there are many aspects of what is best & if you take time to look at the various AV review sites it changes from month to month some are better at zero day exploits, some the Firewall is perhaps more robust, others have a much better customer service if you have issues & the list goes on & on. What is obvious is a need for layered protection & not reliance on any one product & that includes Kaspersky as no product is 100% effective no matter how much you wish it were.

Install the products you review next time or avoid beta test sites as necessary negative reviews of pre-release obviously upset you .

'Next to Sophos, which is not available to consumers, Kasper4sky products rank No. 1 next to Bitdefender, so that's where I base my review on! '

So it's not actually 'your' review at all, it is others reviews & what you have read that you are basing 'your' opinion on, this renders all your reviews of Kaspersky Internet Security 2013 totally invalid - You cannot review something you have never used ~
NoMac reviewed v2013 13.0.1.4067 Beta on Jul 13, 2012
@Music4Ever
I gave it 3 stars based on the products current status and reputation, as well as the reviews currently posted.

You only gave it a 1 star, which shows one of two things.
You don't have a clue about the product and/or you're a lamer!!
Maybe both!

There are some serious additional features added to KIS 2013 and hasd you taken the time to read the product description in the Kaspersky forums, you would know that!

I've been using KIS for years and years and can vouch for the product's quality and reputation.
Next to Sophos, which is not available to consumers, Kasper4sky products rank No. 1 next to Bitdefender, so that's where I base my review on!
Since the product is still being developed and tested, a 3 star will suffice for now!
Music4Ever reviewed v2013 13.0.0.3370 RC on Jun 7, 2012
@NoMac ~ So you are giving this 3 stars? Based on what exactly?

We are reviewing the beta or RC here not some prophetic view of the final - That will be reviewed objectively when released ~ This is not my first day BTW.

Obviously you are a fan of Kaspersky but review the release on offer here.

And I restate my view that additions from 2012 include gimmicks as does the 2013 products I have tested from Norton.

I doubt very much that you installed this, rather you are a user of 2012 ~
NoMac reviewed v2013 13.0.0.3370 RC on Jun 7, 2012
As with any pre-release from Kaspersky, this one is still buggy and unstable, so best to wait for the Final!

The Developers are working hard to make this happen and once the CFinal is released, it will be an amazing product!