File Details

File Size
154.3 MB
License
Freeware
Operating System
Windows 7/Vista/XP
Date Added
October 6, 2022
Total Downloads
9,606
Publisher
Amazon.com, Inc.
Homepage
Kindle for PC
Publisher's Description
Kindle for PC allows you to read more than 360,000 Kindle books on your PC. No Kindle required. Already have a Kindle? With Whispersync, you can access your library of Kindle books, notes, makrs and more.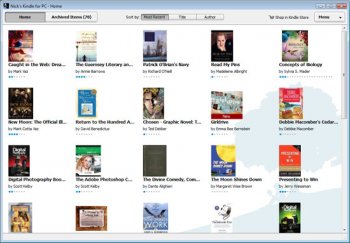 View Full-size
Latest Reviews
dariuszpolak reviewed v1.10.8 Build 40514 on Mar 17, 2014
Best program ever!
SuzzyWoozy reviewed v1.10.5 Build 40382 on Dec 10, 2012
Tried them all, this one is one of the poorest. If you like it, give a try to Adobe Digital Editions that looks almost exactingly the same, and offers the same lack of configuration. Hey, even CoolReader is better than this, at least you ca choose the backgound.

If you do however need a real ebook reader, jump to another league and give Calible a try.
Wintings reviewed v1.10.1 Build 40262 on Jul 10, 2012
The annoying thing about this program is that it insists on installing itself on your C drive. It ought to offerthe option of installing in a location decided by the user.
Uriel reviewed v1.7.0 Build 32981 on Aug 20, 2011
So I cannot purchase an eBook from Barns&Noble or Coles Book Store. I have to get it from Amazon in order for it to play in Kindle. Wow! No thanks. I'll stick to the paper books. Thanks.
tickleonthetum reviewed v1.4.1 Build 31629 on Feb 9, 2011
Well with a world population of approximatly 6,898,700,000 8m suddenly seems a lot less! Barely 0.1% infact.

The US has about 308,745,538 residents so 8m is still only 2.5% roughly. That's hardly popular!

People hear the word million and get all over excited!!

This software is very amateurish at best. Take a look at Calibre and see what an ebook app should look like...
gplasky reviewed v1.4.0.31482 on Jan 23, 2011
johnk119

So far the estimate is over 8 million Kindle readers have been sold. What exactly is your definition of "popular"?
SoundMix reviewed v1.4.0.31482 on Jan 21, 2011
This program is already popular as many people that use netbooks to read Kindle books. You cannot read a Kindle book with Adobe PDF readers.
johnk119 reviewed v1.2.1.30427 on Aug 23, 2010
if more people purchase kindle perhaps this will become a popular utility until then it's virtually useless as adobe .pdf format is clearly superior in many ways...
frankwick reviewed v1.2.1.30427 on Aug 20, 2010
It lets you read your books, but that's about it. They have the ability to make a nice Windows client but they won't because it would lower Kindle sales. I have "Kindle for PC" on my dual touch Win7 tablet. Oh the possibilities! Maybe one day Amazon will wake up. If they had a nice Windows client then they would sell more books.
shiften reviewed v1.1.1.30156 on May 27, 2010
It downloads the books that I had purchased for my Kindle, but won't open them. Says "This book could not be opened. Please remove the book from your device and redownload it". Also, I can't search or look up words like I can with the Kindle device.