Publisher's Description
KlipFolio is a small, smart, and configurable personal dashboard and sidebar. It can be used to monitor anything online - weather, stocks, Hotmail, news, RSS feeds and even auctions - right on the desktop.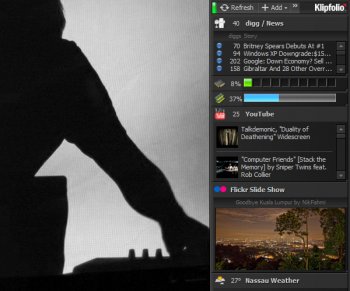 View Full-size
Latest Reviews
ZoNi reviewed v5.4 Build 5904 on Mar 11, 2011
No more Klipfolio Personal :-(

http://support.klipfolio...topic.php?p=14063#14063
halc reviewed v5.4 Build 5904 on Jun 14, 2010
The best and only one of it's kind.

If you read/scan multiple feeds and want to aggregate feeds by content (not by site!), then this gem is a must-have.

Been using for the past couple of versions and can't make this crash.

I run this with 14 different windows, 5 different Klip types and more than 100 different feeds.

A real time saver!
Diam0nd reviewed v5.3 Build 5903-9 on Feb 2, 2010
One of my must-have programs. Can't say enough good things about it. I only wish there was a paid version for individual users (only corporate packages atm) :/
dhry reviewed v5.0.1 on Feb 27, 2009
Can't give this a good rating. Very nice to look at initially. Very polished interface. The problem is that it's just not stable enough when used in certain ways. I've tried this program over the years and came back to it recently. Couldn't remember why I didn't like it. I started fiddling, installed a couple of klips and really liked it. I turned it into an auto-hiding bar locked on the left of my screen. Worked fine. Rebooted computer, worked fine for a while, then all of a sudden it wouldn't pop out, or it was empty.. reboot machine, program autostarted but without bar on left OR systray icon (I could see a phantom exe running via taskmanager though, had to endtask it and it worked when restarted) Some other oddities started happening after that. Unlatched from left of screen and found a couple of klips had just disappeared. Options for size weren't consistently being saved either. I think the interface is simply trying to be a bit too ambitious with the sliding popout this and that. Like the iPhone, it's trying to hide everyday functionality behind a pretty facade, and it just doesn't work for me (2gb, core2duo, ATI 3870 card so it's not my hw at fault). On the other hand, GreatNews is awesome as a feedreader. Can't recommend Klipfolio, sorry. Maybe if you're not a power user and just want one or two klips. I had about ten that I was testing, including the Fileforum one. Pity because it seems to be a cool idea..
Diam0nd reviewed v5.0 Build 5900-14 Beta F on Sep 30, 2008
Amazing stuff. Helps me stay on top of news, blogs, and everything else. I wish they offered a Pro version with some of the features of the Enterprise edition.
Ergo reviewed v5.0 Build 5900-3 Beta on Aug 28, 2008
The main idea of KlipFolio is very good considering that more and more ppl have wide monitors with 1900x1200 resolution and thus have possibility to allocate space for the sidebar with different information. I could give 5 stars for KlipFolio but I had to put just 4 because all Klips for KlipFolio are lop-sided - RSS Feeds or their clones to show different news.

I could not find klip that could show my current clipboard content and analog clocks. No good clip to show quick launch bar. Clip to manage WinAmp is not good and must be improved. No klips to manage alternate mp3-players. But I'm sure that with time we will see more super-klips for KlipFolio (not just yet another klip to show random Flickr photo) and then I will put my 5 stars unhesitatingly.
charlesn56 reviewed v5.0 Build 5900-3 Beta on Aug 26, 2008
Best program on my computer. Used Freedreader before I found this program. If I could give it a high rating that 5 I would. Great job!!
Diam0nd reviewed v5.0 Build 5900-3 Beta on Aug 25, 2008
Simply the best. And what's better, it's FREE.

Tao2005: What did your remars about the price meant? I mean, since the Personal version is free, I assume you meant the Enterprise edition. How much is it? Coz I'd sure as hell would buy it.
argybee reviewed v5.0 Build 5899-80 on Jul 14, 2008
...so he gives a 2 because he can't find a particular klip!?
Intelligent people will check the website to see the full range of klips that ARE available - overwhelming for many. This is one of the slickest and most flexible sidebar type progs around. Considering what it does it is definitely not heavy on resources. Runs beautifully on my 9 year old P3/XP.
anomoly reviewed v5.0 Build 5899-80 on Jul 14, 2008
no ip address monitor
waste of resources